User roles & permissions
Default roles & permissions in atSpoke matter at two levels:
How the user relates to the org as a whole
How the user relates to each individual team
Organization
At the org-level, users can be a:
Member: user who resolves requests and is part of one or more team. This user can create and view custom request lists, see the full range of request lists, and edit team-level settings.
Super Admin: user who has control over org-wide settings. In addition to requester and member permissions, super admins can modify org settings (aside from billing), create teams, and create additional super admins. An org can have as many super admins as needed.
Owner: The owner is a super admin who has billing permissions. The first super admin (whoever created the org) is the owner by default. Only a single user can be the owner.
Managing org-level permissions
Only Super Admins can upgrade and downgrade Super Admin status.
Org-level roles can be accessed and managed in Settings > Users. By default, any new user added to your atSpoke org will be a Member, but can be easily upgraded to a Super Admin.
To change a user's role, click on the three-dots menu next to their name to add or remove Super Admin privileges.

Team
At the team-level, users can be a:
Team Agent: user who responds to requests and add/edit/remove KB resources from their team. They can view team settings, but can't edit them.
Team Admin: user who can do everything team agents can, but can also edit team settings. The creator of a team is the Team Admin by default, but can remove themselves as long as there's at least one other Team Admin. Team Admins can also edit integrations for the org.
Managing team-level permissions
Every team needs at least one Team Admin, but can have an unlimited number.
Team-level roles can be accessed and managed in Teams > Team Members. By default, new users added to a team will default to Team Agents.
To upgrade or downgrade team permissions, click on the "More" menu next to a user's name to add or remove Team Admin privileges. You must be a Team Admin in order to add or remove Team Admin privileges.

These settings apply to the user's status on the particular team, not to all teams. For example, if a user is a Team Admin on the IT team, they don't have admin privileges on the HR team; they'd count as a Team Agent on that team.
Account actions
Organization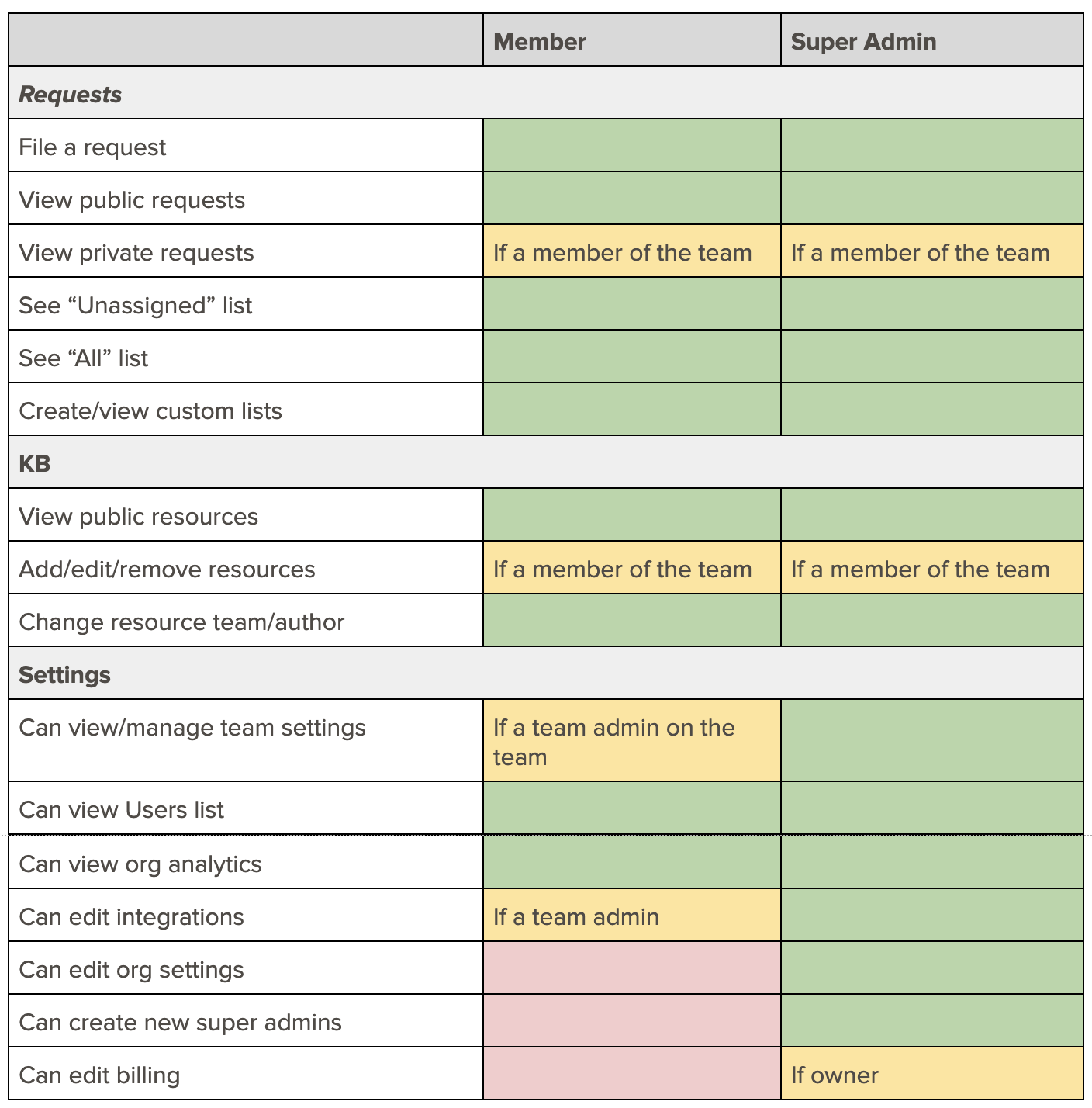 Team

Notifications
When a user is made a Team Admin, or has their Team Admin privileges removed, we'll notify that user: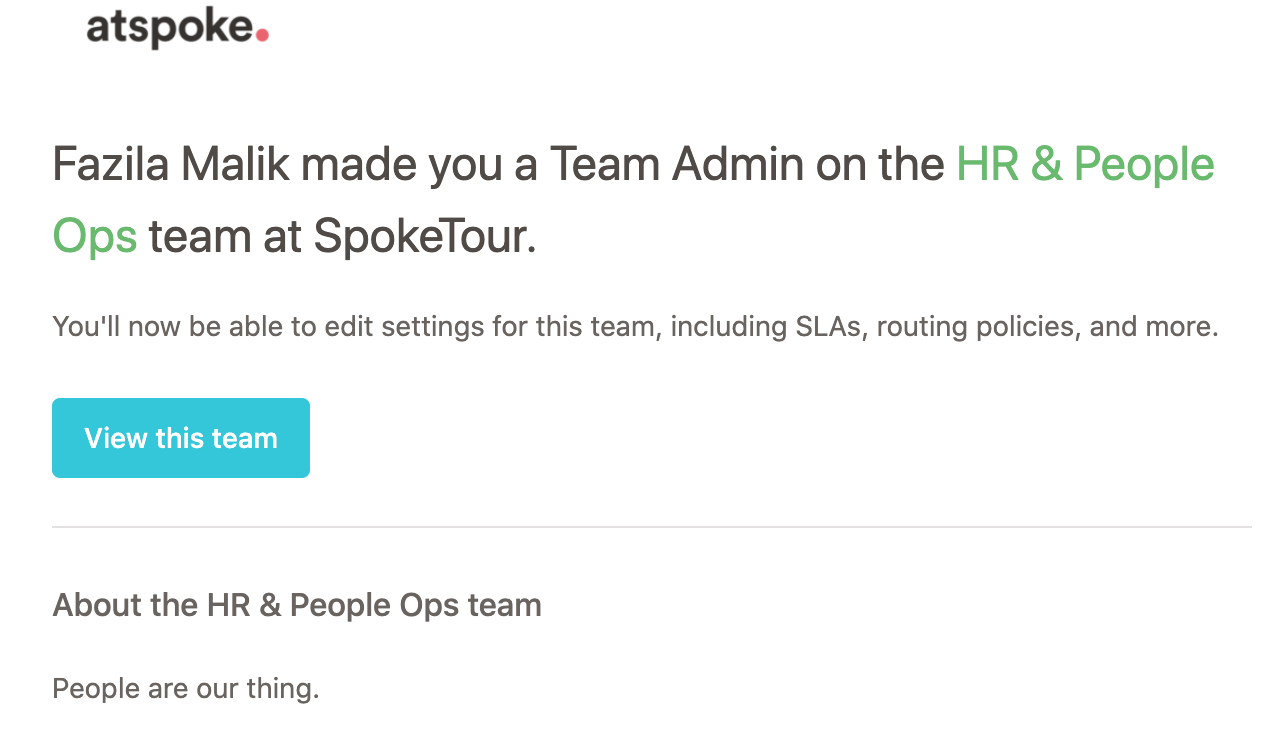 We'll also notify all the Super Admins when a user is added or removed as a Super Admin: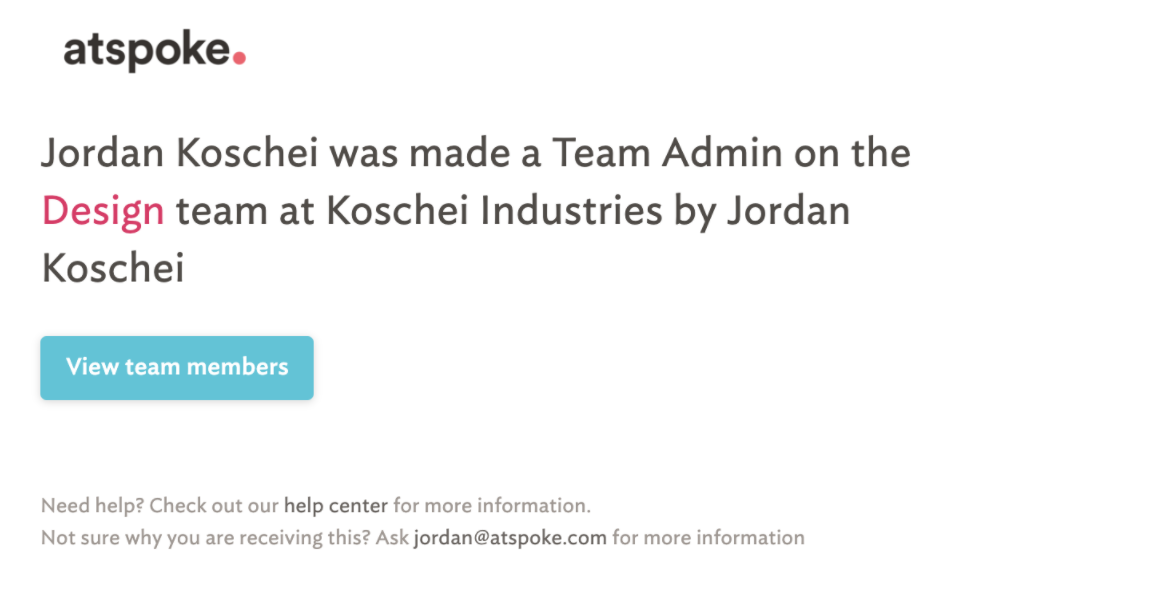 ---
---