Jamf integration
If you rely on Jamf, the Apple-only Mobile Device Management (MDM) solution to manage employee Macbooks, iPhone & iPads, you can now integrate Jamf with atSpoke! Take actions like locking devices & erasing devices directly in atSpoke to trigger the actions in Jamf. 
Access to the Jamf integration is only available to users on the Business and Enterprise plan
Setup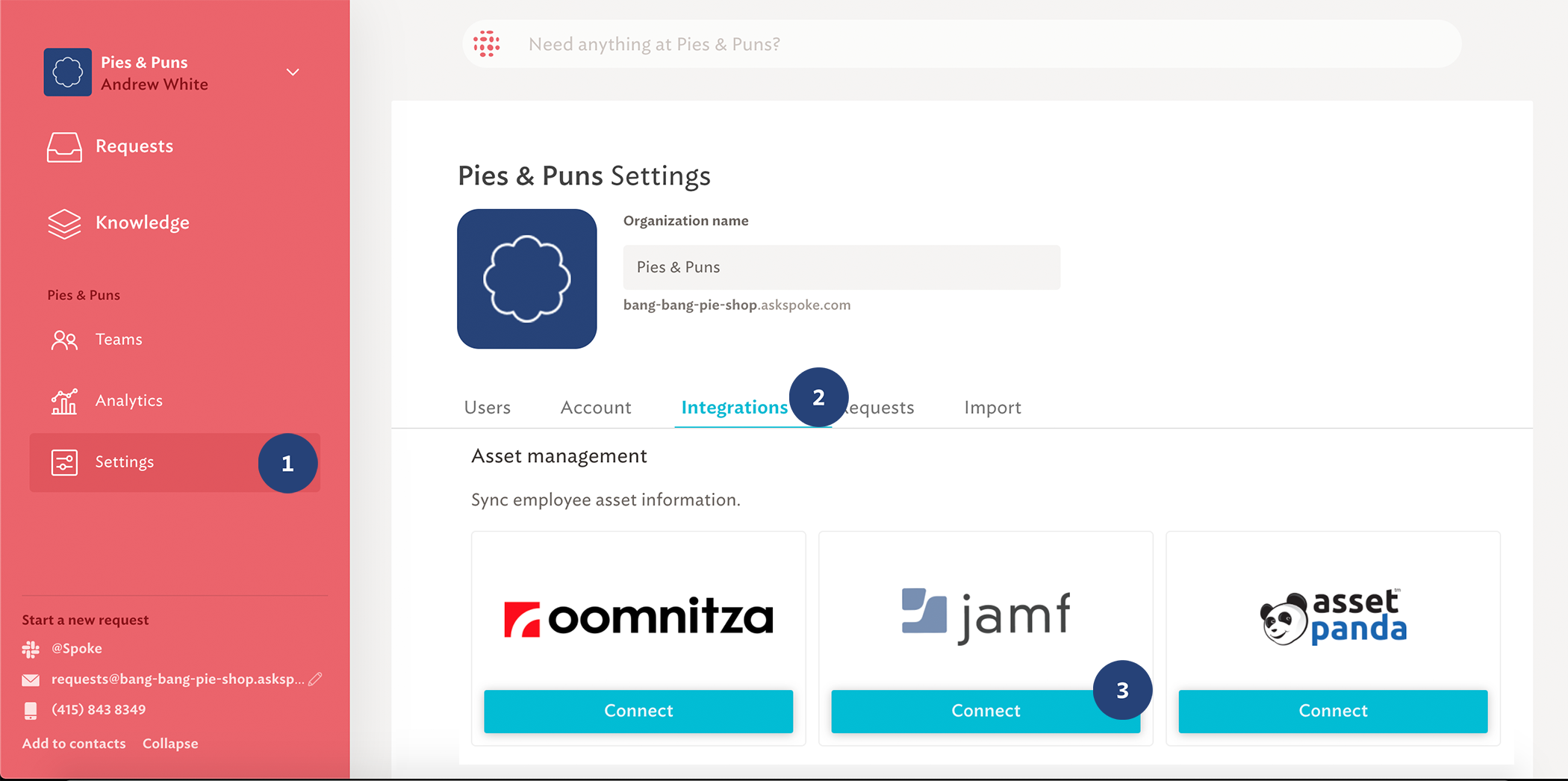 Navigate to Settings
Select the Integrations tab
Scroll through the menu, then choose Jamf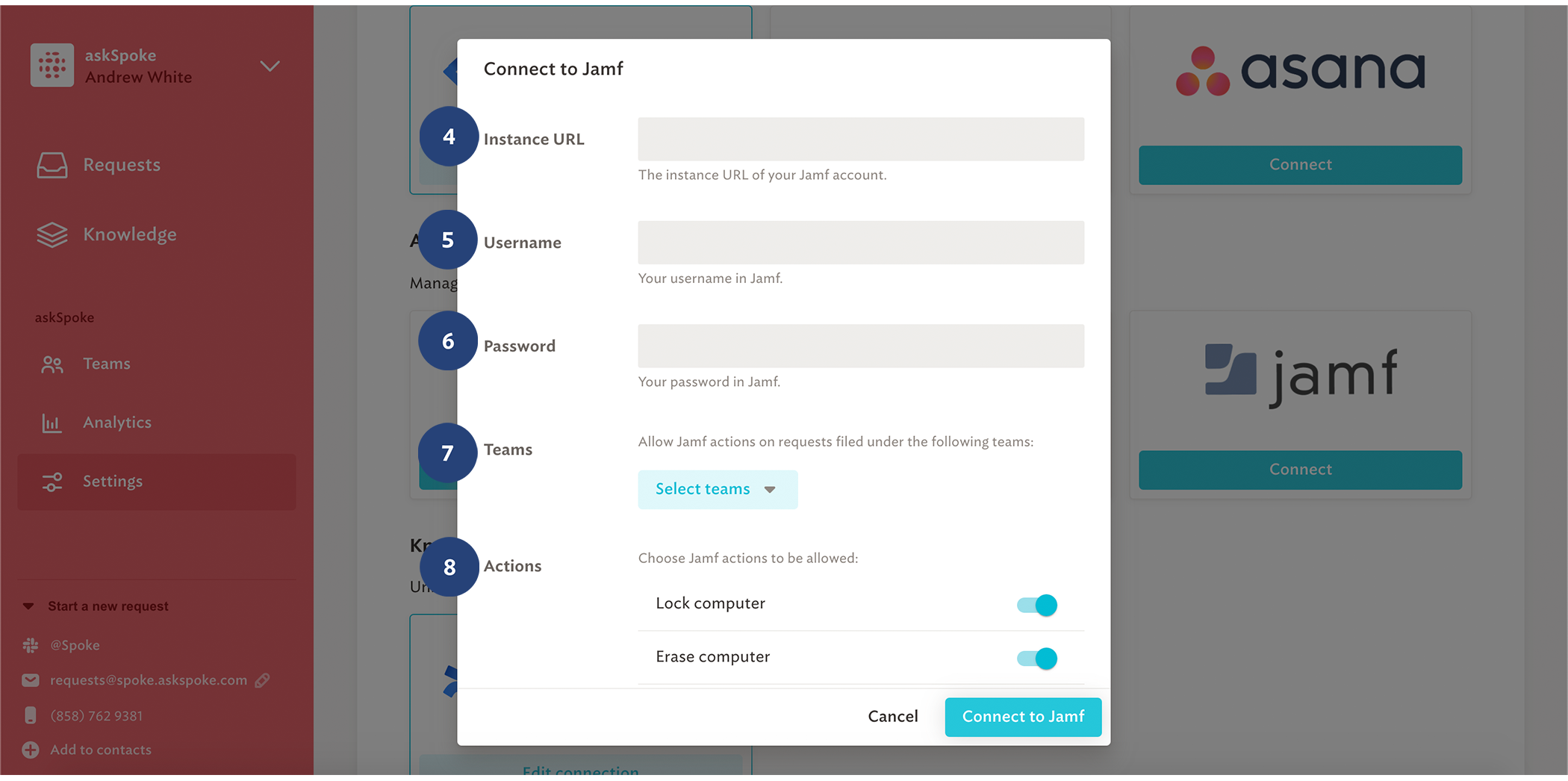 Enter your Instance URL
Enter your username
Enter your password (You must be a JAMF admin to complete this step)
Select at least one atSpoke team to allow:

atSpoke team: All requests filed under the selected teams will make the user's Jamf assets visible under requester information. Anyone who can view the request can view this information.
atSpoke team: All requests filed under the selected teams will have the ability to trigger Jamf actions. Unless the team was selected when setting up the integration, they will not see the Jamf integration in the Bolt icon, or any associated actions.

Select the actions you would like to allow your team to use in atSpoke. All actions are toggled on by default.
Once enabled, Admins can either disable or edit the connection to add or remove atSpoke teams directly from the Integrations tab under Settings. 
Actions
To trigger actions in Jamf, click on the Bolt icon in the request sidebar, then choose JAMF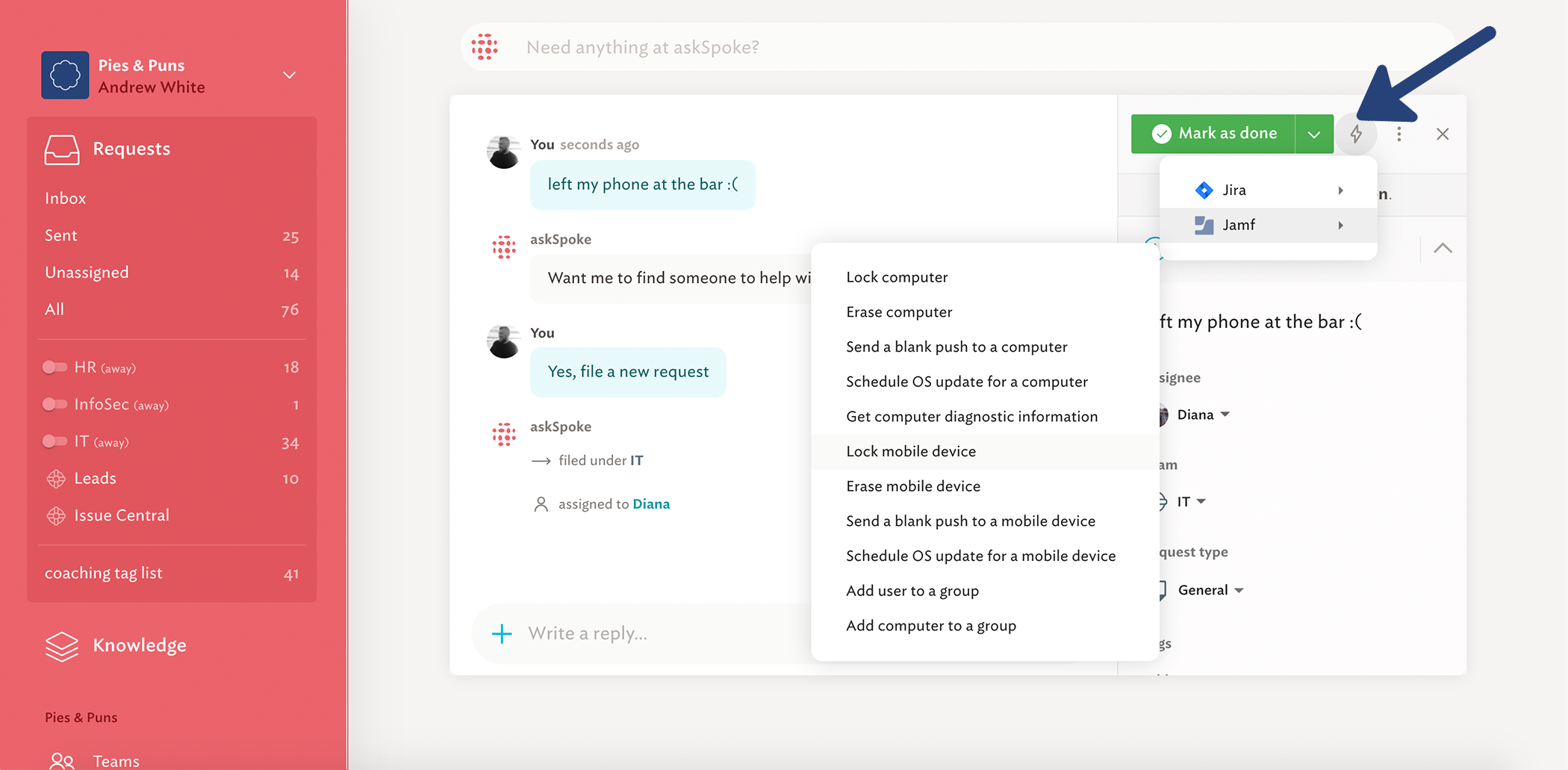 Any admin or team member who can view a request will be able to trigger an action in Jamf off of the request. Requesters will not be able to trigger Jamf actions or view the actions menu on the atSpoke requests. Once a Jamf action is triggered on an atSpoke request, a message update will be added to the request panel.
Example
Here's an example of a request in which you'll need to lock a mobile device. In this case, our colleague left their work phone at the bar, leaving sensitive work information vulnerable.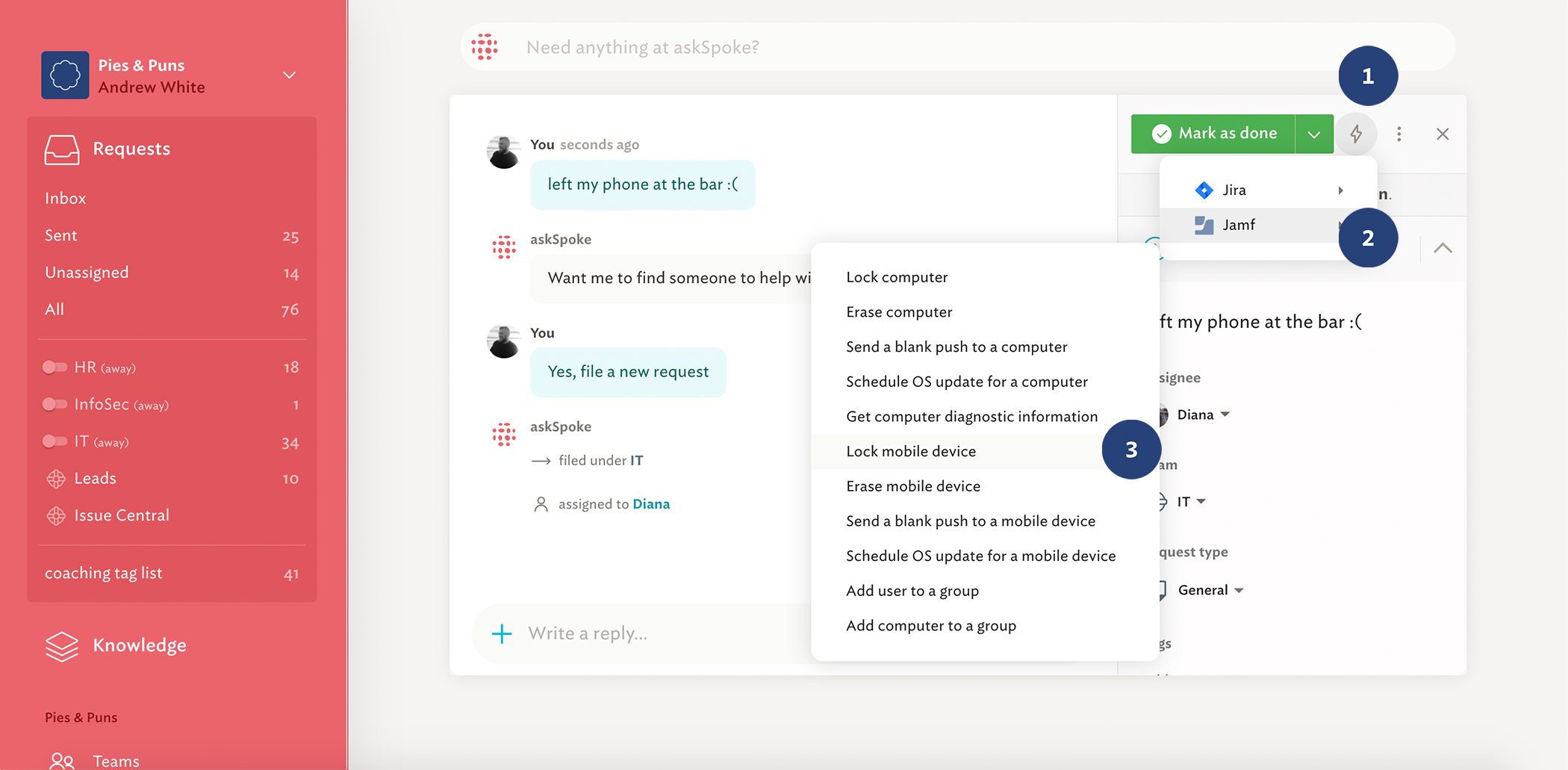 Click on The Bolt Icon in the upper right corner of the request panel
Select Jamf then click Lock mobile device from the drop down menu of Actions.
From the popup modal, select the requester's mobile device add a message to be displayed when locked.

A message update will be added to the atSpoke request confirming that a device has been locked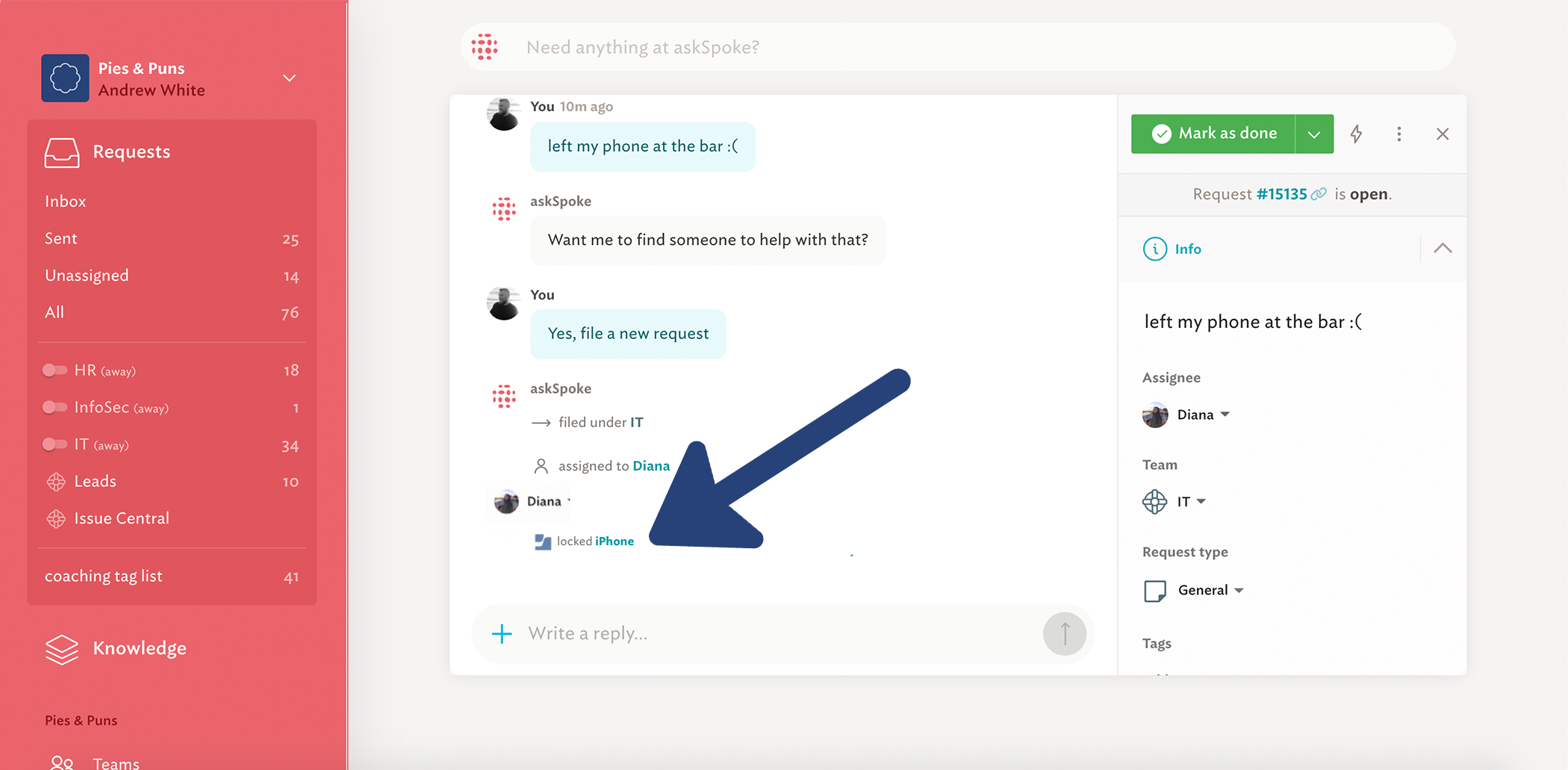 Functionality
These bolded terms can be used as Slash commands while in Slack, in addition to choosing the action from the request panel within atSpoke.
Lock computer: this locks the computer owned by the requester.
Erase computer: this erases the computer owned by the requester.
Schedule OS update for a computer: this scheduled an OS update for the computer owned by the requester.
Lock mobile device: this locks the mobile phone owned by the requester.
Erase mobile device: this erases the mobile phone owned by the requester.
Schedule OS update for a mobile device: this scheduled an OS update for the mobile device owned by the requester.
Add user to a group: this allows you to select a new group to add the requester to
Add computer to a group: this allows you to select a new group to add the requester's computer to
Get computer diagnostic information: Gets failed commands and app installs for the computer owned by the requester.
Send a blank push to a computer: this forces a check-in with the computer owned by the requester. Helps IT admins in troubleshooting
Send a blank push to a mobile: this forces a check-in with the mobile owned by the requester. Helps IT admins in troubleshooting
---
---