Navigating requests
atSpoke is the central place for users to access knowledge and services on demand. This guide will walk through all the major functions you need to know to use atSpoke!

Creating requests
To create a request, navigate to the request bar at the top of any screen in the web app.
Enter your question into the request bar and press "Enter."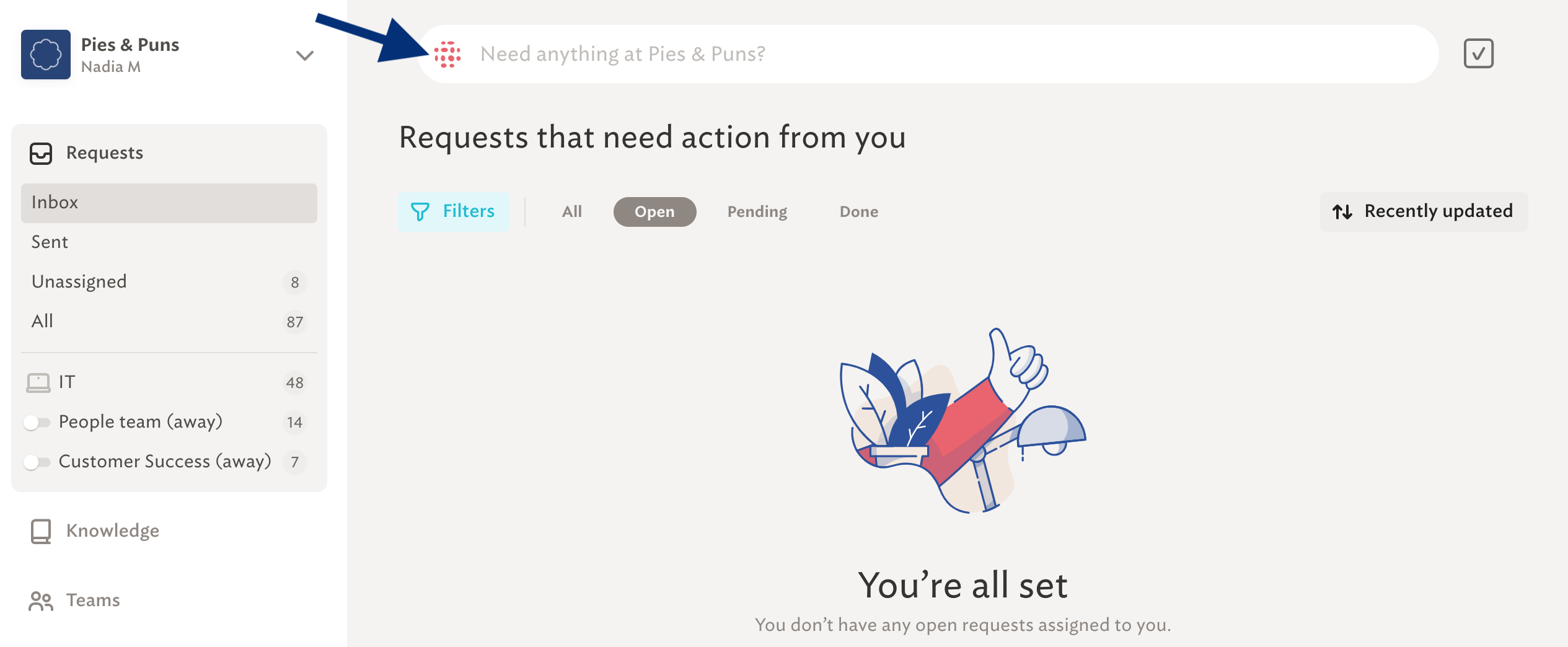 atSpoke will reply with a knowledge base resource, if an existing resource answers the question.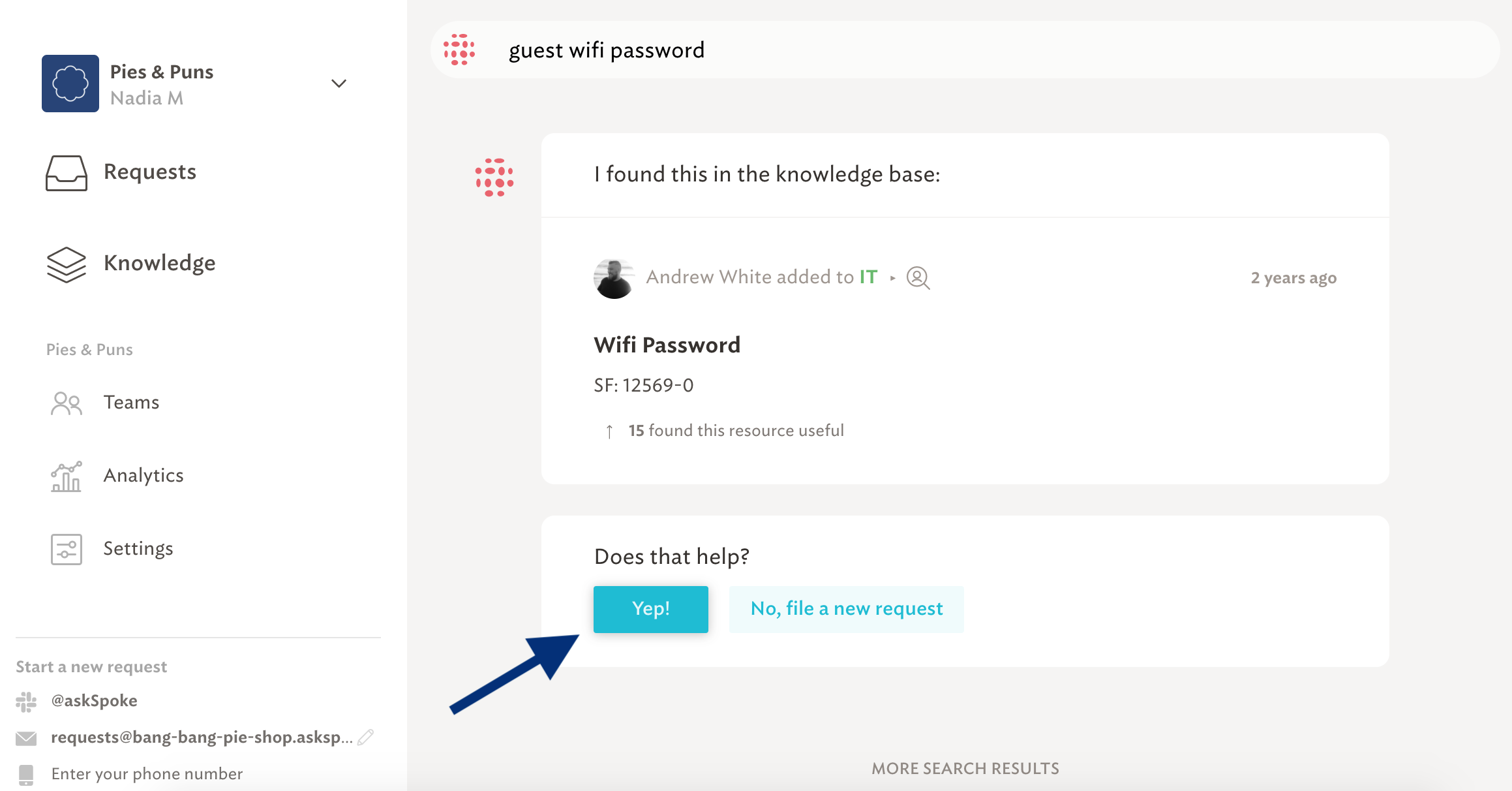 If there isn't a knowledge base resource available, atSpoke will find someone to help. Select "Yep!" to signify that helped, or "No, file a new request." to contact a human.

Expanded request view
Selecting "Yes, file a new request" will open the expanded request view of your request. In the expanded request view, you can see important details related to your request.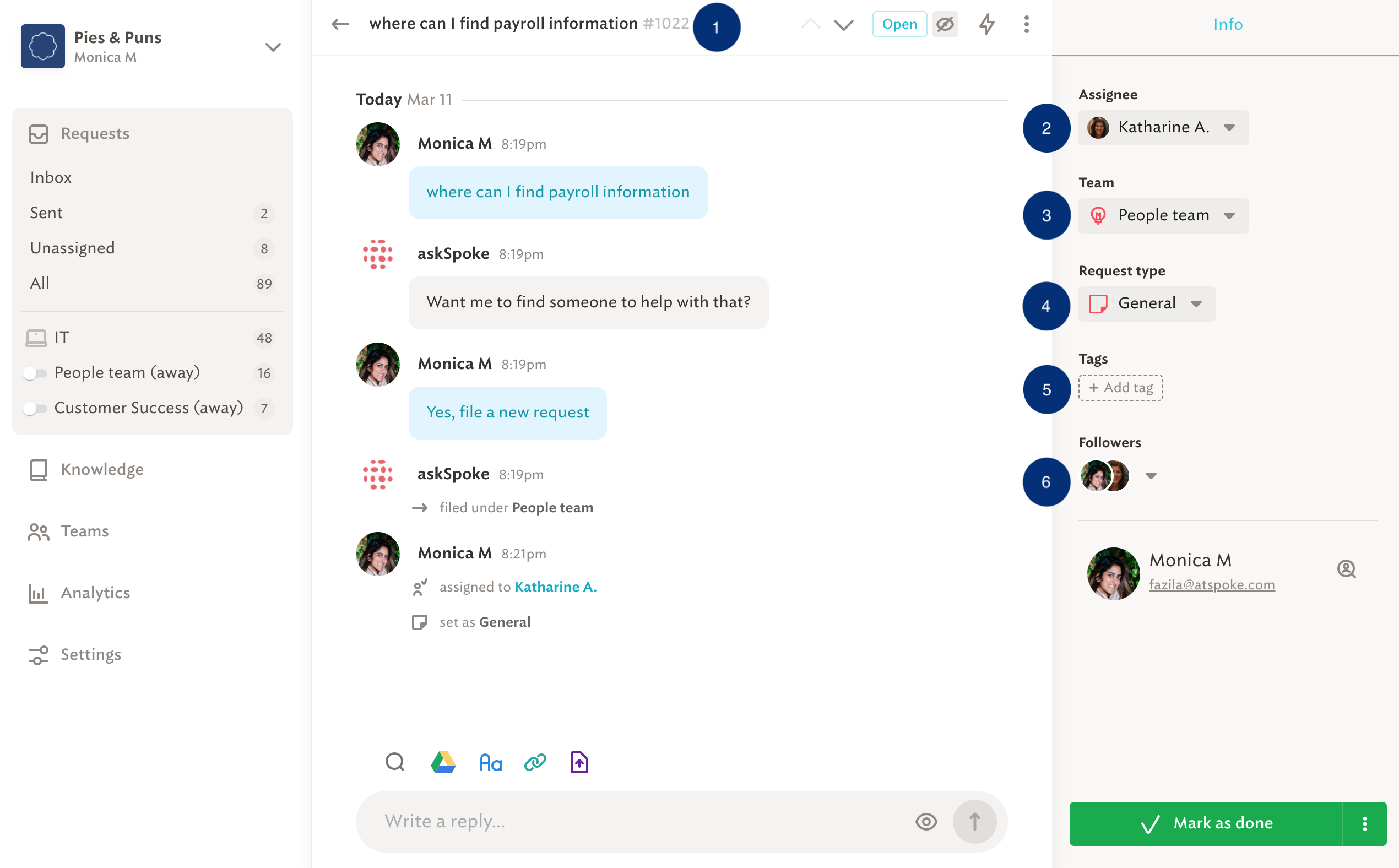 Click the request title to change the title of the request
Which expert is handling the request. (click the down arrow to change who)
Which team is reviewing your request (click the down arrow to change teams)
The type of request you've made (click the dropdown to change type)
Add a tag to label the request. (for more information on creating tags, click here)
Who is following this request (use "+" to add followers or @mention)

Actions in expanded request view
There are a number of actions that can be taken from this view. Begin by selecting the "..." in the top right of the request.
Copy request link
Change the privacy settings of the request: Make private, or make Public, depending on current settings.
Export as PDF
Delete the request.

Folders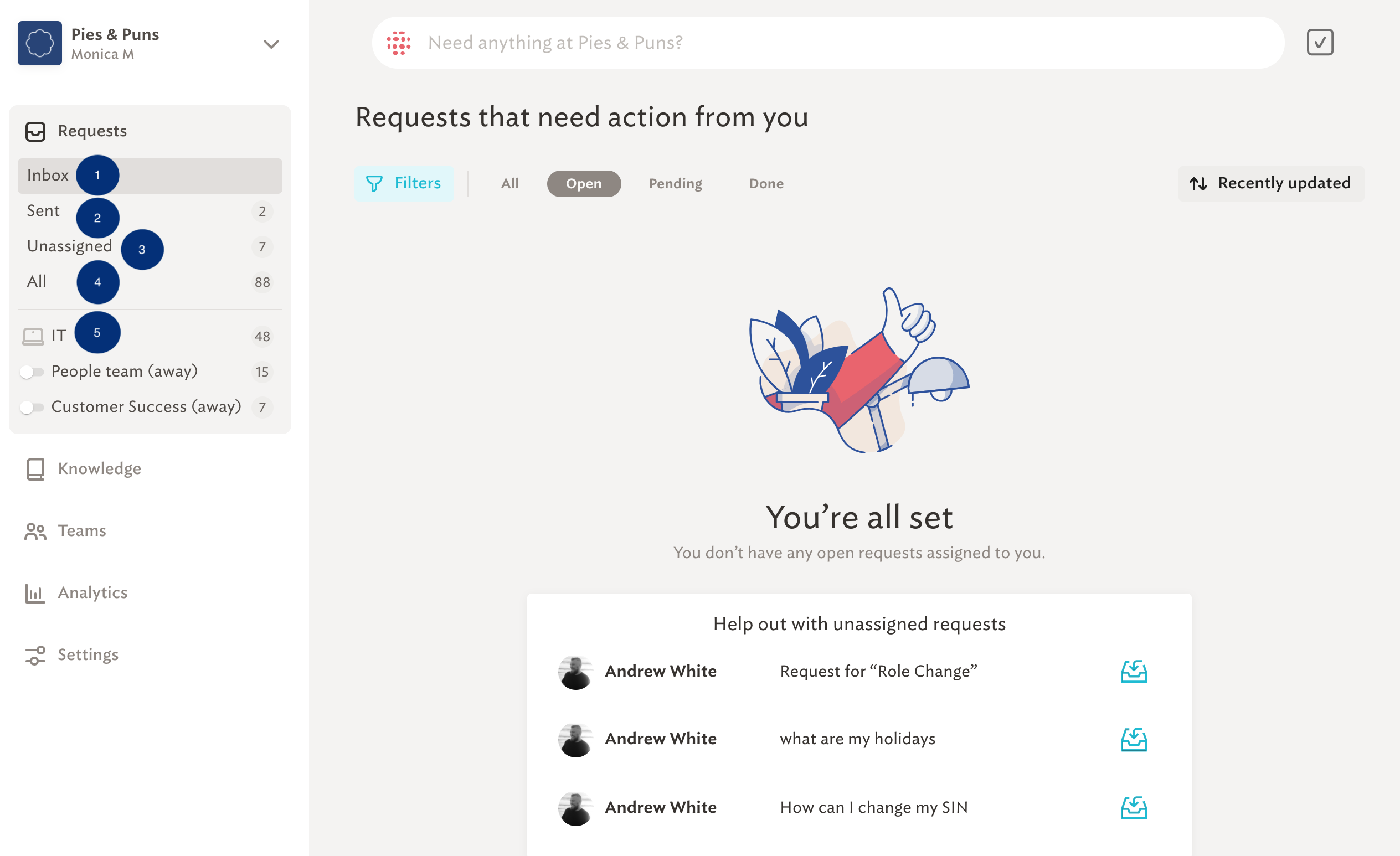 The Inbox holds all requests currently assigned to you.
The Sent folder holds all requests which you have created.
The Unassigned folder holds any requests which are not filed to an expert or to a team. This only shows to team members; requesters not on a team, won't have "unassigned."
The All folder holds all publicly visible requests.
Team Specific Folders - You will see a folder for each team on which you serve. All requests assigned to your team will show here.
To make sure no requests fall through the cracks; go into the 'unassigned' tab, and turn the 'subscribe' toggle in the top right to 'On'. Now you will receive an email whenever a request is sent to unassigned.
* Private requests not assigned to your team will not be visible in the "all" tab

Request filters
When receiving a high volume of requests, you may need to filter to find what you need. Choose to view requests by status, or click the filter button to reveal new filters

All - All request statuses
Open - Only view open requests
Pending - Only view requests marked as pending
Done - Only view requests marked as done.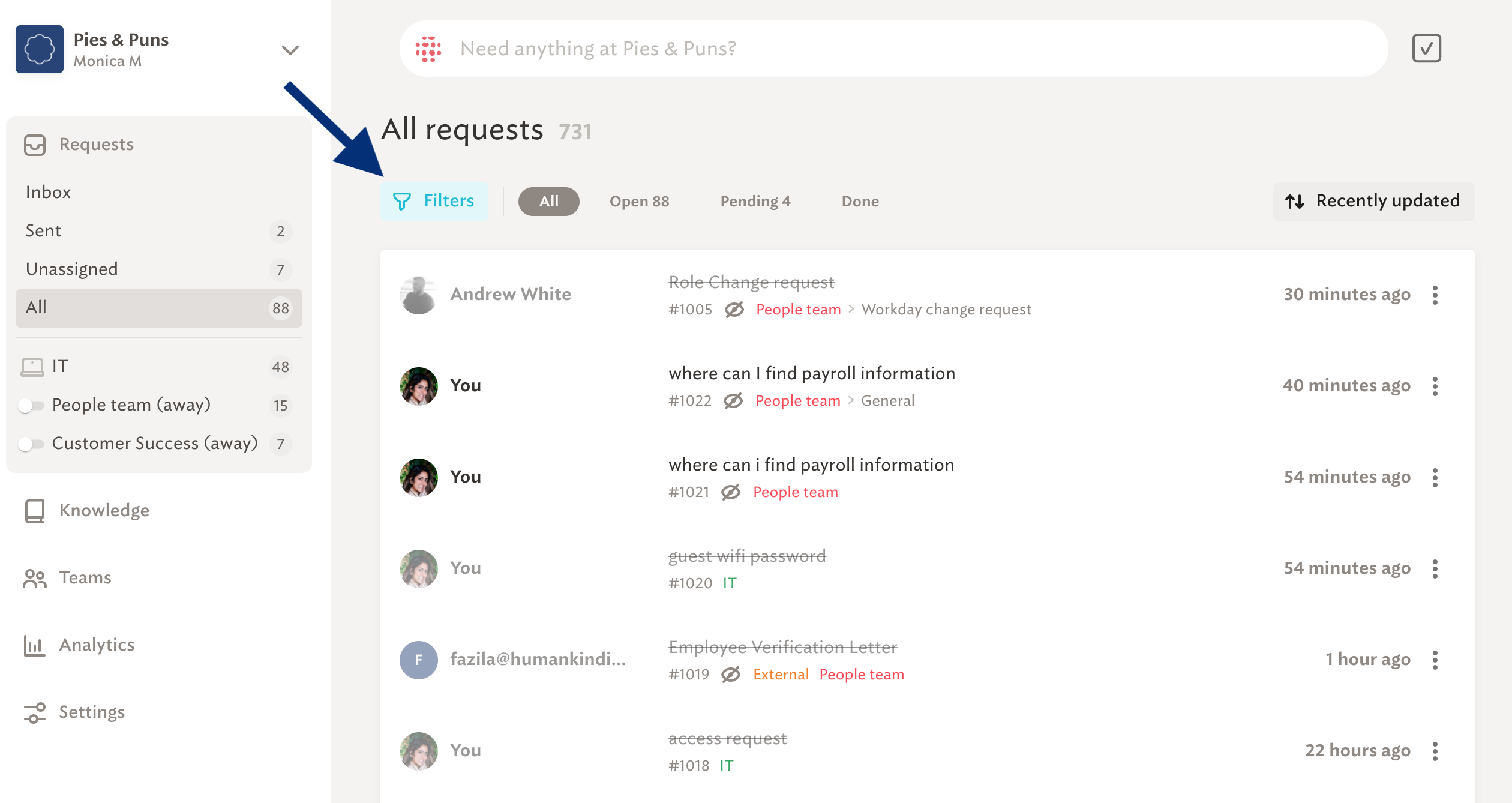 To filter requests based on other attributes, choose the Filters button and select the filters you'd like to apply.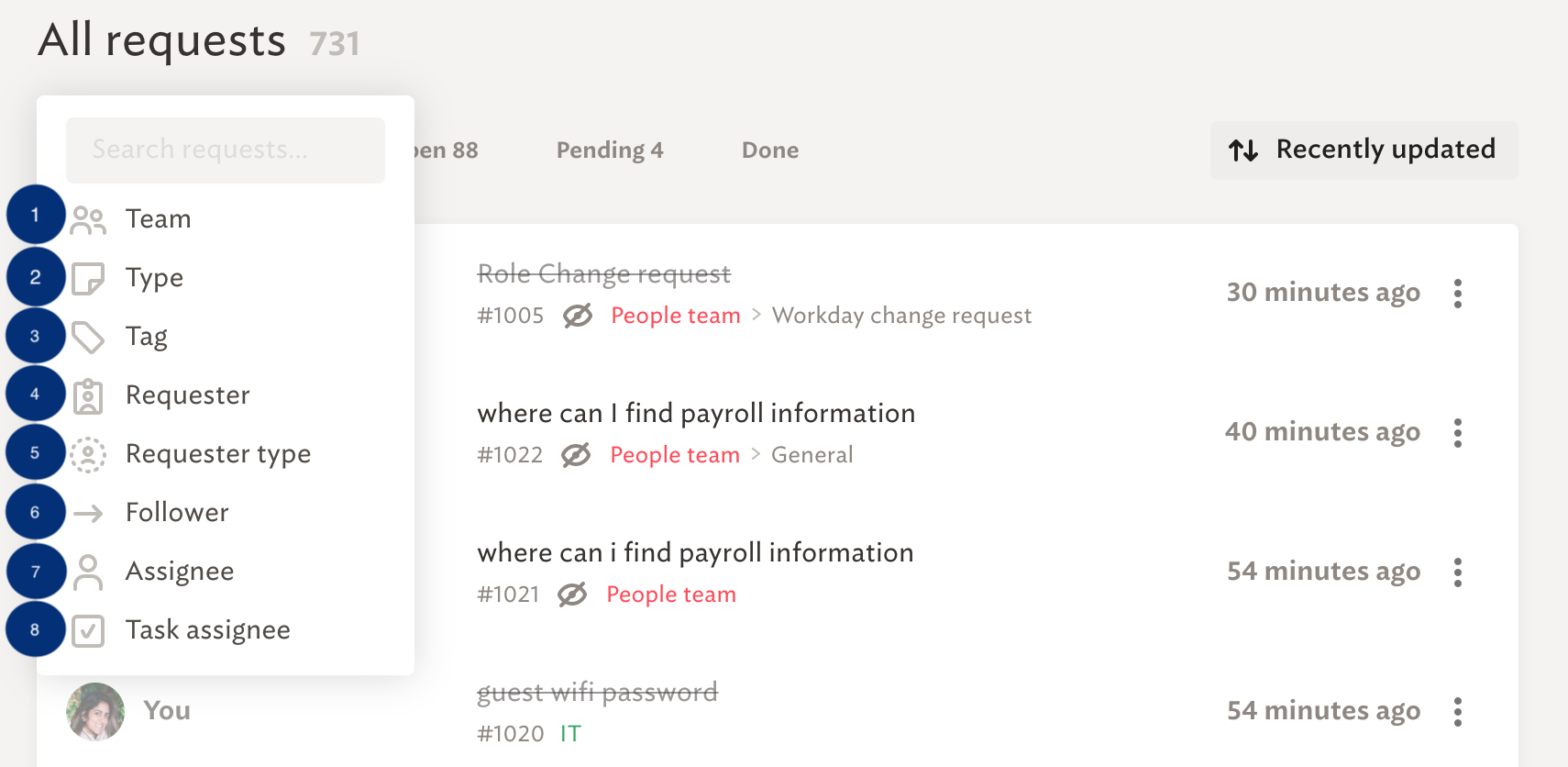 Team - choose to view only requests assigned to your team.
Type - Choose to view requests of a specific request type
Tag - Choose to view specific tags such as VIP or Urgent
Requester - Choose to view requests created by a specific user
Requester Type- you can view removed, external, or blocked
Follower - Choose a specific user or users to view only the requests they are following
Assignee - Only view requests assigned to a specific expert
Task Assignee - View requests with Tasks assigned to a specific team member.
Custom filter views
Once you have selected the filters to get the view you'd like, you can choose "Save new list" and name the view to be used again.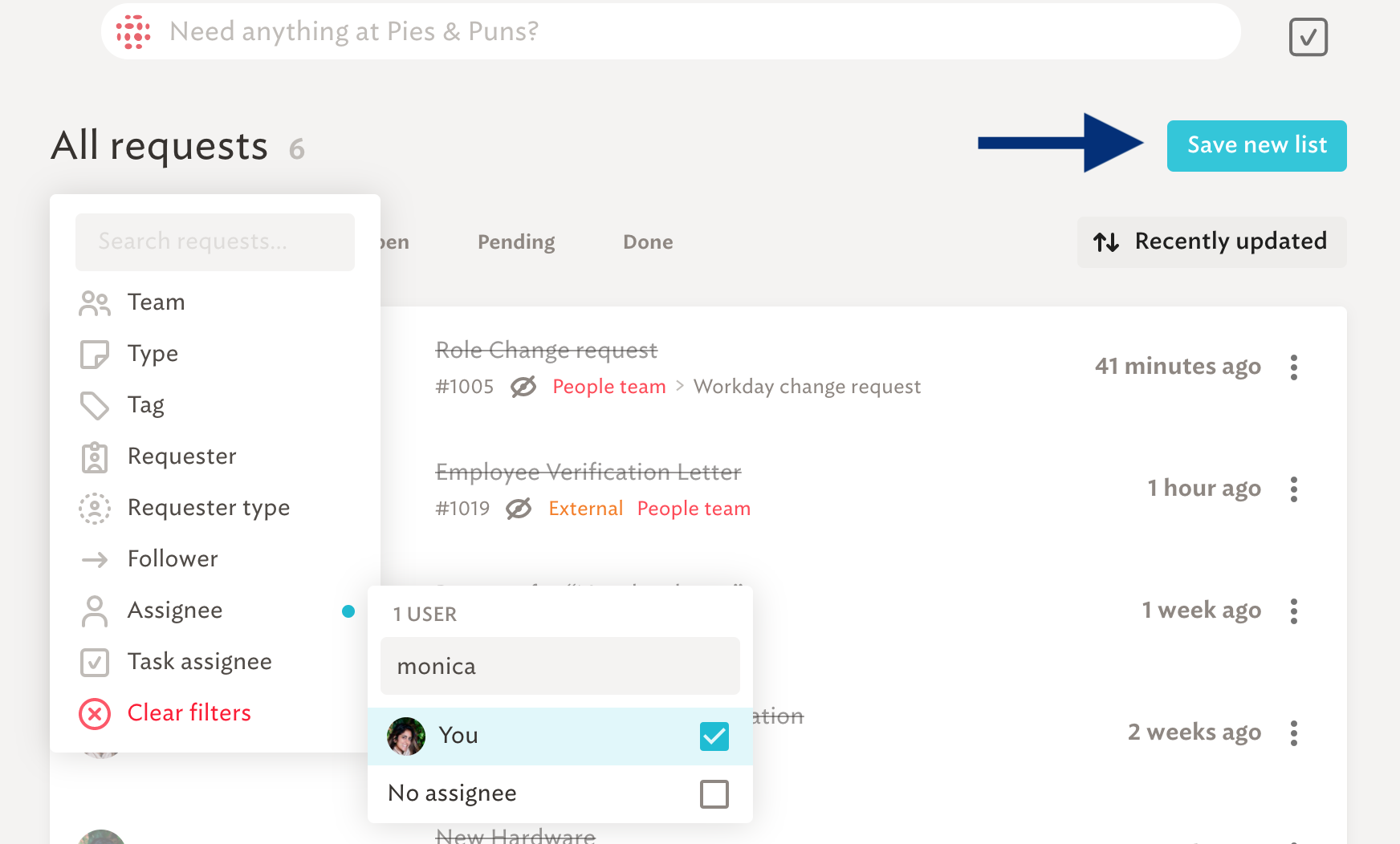 Once you have saved a list. A modal will appear to name the list.

The list can be accessed beneath the team folder in the left navigation. Notice "My Tasks" which has been saved to show any task that is assigned to me.

Answering requests
Find requests to answer in your inbox. Click on the request to expand the view.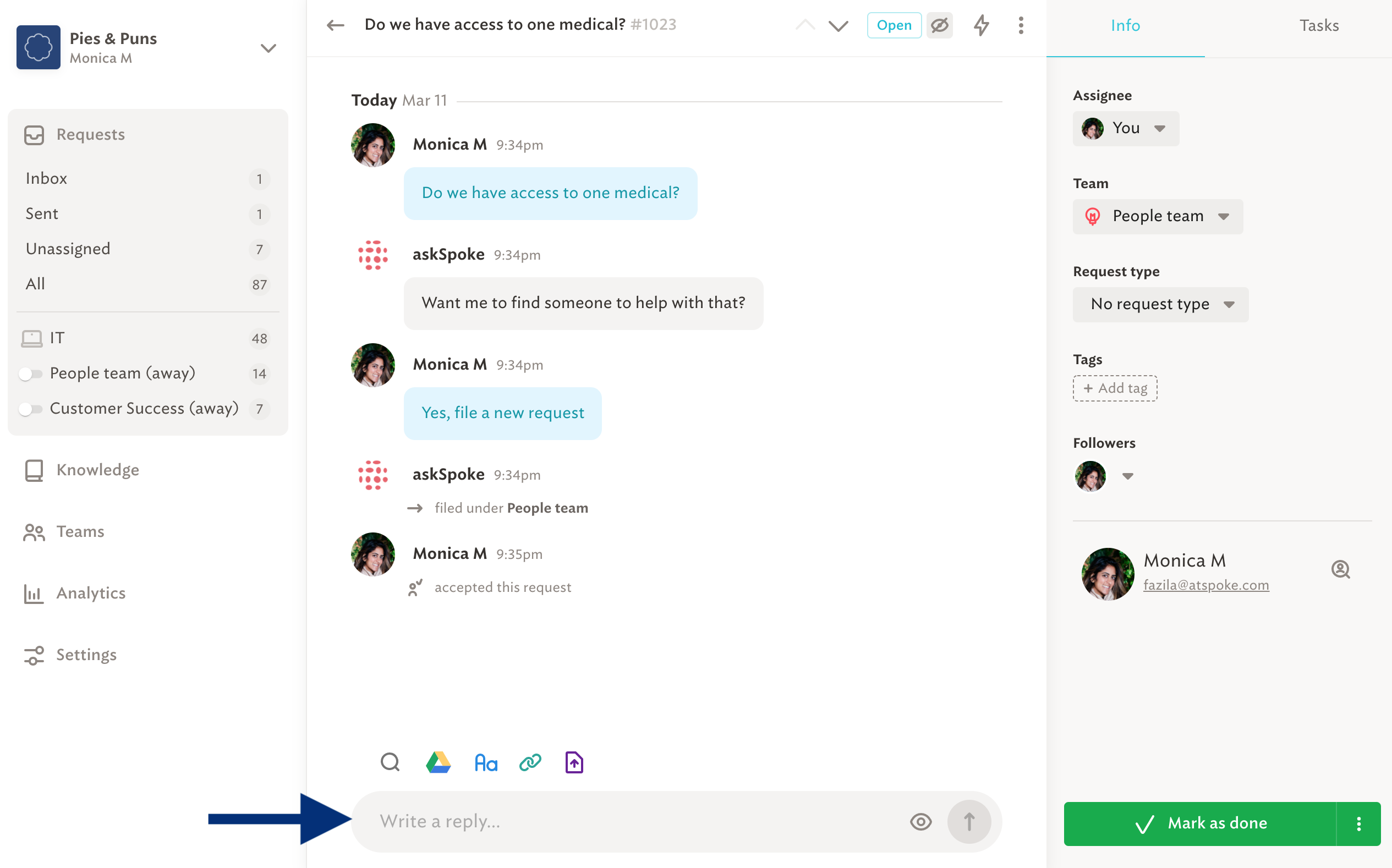 Scroll to the bottom to Write a reply
Choose to Search the knowledge base if you know the answer already exists. You can also add a Google Drive item, File, Link, or Text. 
Enter your answer and make sure to add keywords.
Turn on Automate this reply and assign it to the relevant team. Since you asked the question atSpoke assumes you don't know the answer, so this is automatically switched off. 
Click Add to KB and request.
On your keyboard, press Enter to send the answer to your request.
Click the green box with the checkmark on the bottom right to resolve the request.
---
---