ServiceNow integration
ServiceNow is a service management platform that automates routine work tasks across various business functions. With atSpoke, you can now trigger actions in ServiceNow from within an atSpoke request or task.
Setup
Navigate to Settings
Select the Integrations tab
Scroll through the menu, then choose Service now

Only Admins can view, enable, configure, edit, and disable Integrations
When enabling the integration, the connection will be established via OAuth. Then, you'll be redirected to Google Admin to log in and grant access to atSpoke to make changes
Select at least one atSpoke team. The teams selected can push atSpoke requests to ServiceNow from any request filed under this team
Once enabled, Admins can either disable or edit the connection to add or remove atSpoke teams directly from the Integrations tab under Settings. 
Actions at the request level
Triggering actions in ServiceNow will live in the Actions (bolt icon) menu in the request sidebar
Any admin or team member who can view a request will be able to trigger an action in ServiceNow off of the request

Requesters will not be able to trigger ServiceNow actions or view the actions menu on atSpoke requests

Once a ServiceNow action is triggered on an atSpoke request, a message update with relevant information will be appended to the request panel
Actions enabled for ServiceNow
Here's a breakdown of all ServiceNow actions we've enabled and what they mean:

Create incident: Creates an incident in ServiceNow and pulls all request data from atSpoke
Request password reset: Sends a password reset email to the requester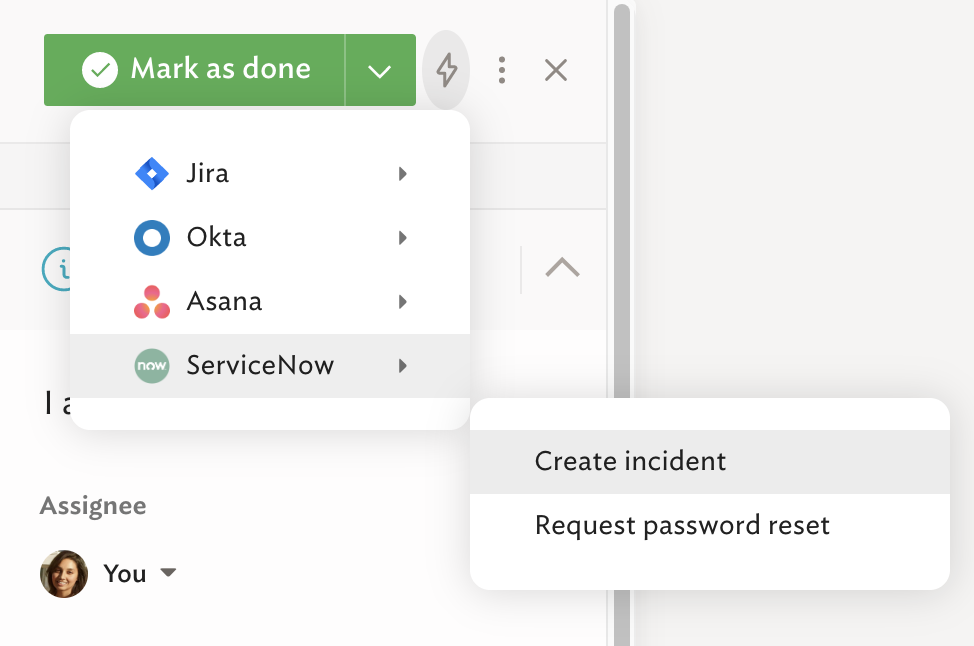 When creating a ServiceNow incident from an atSpoke request, users will be able to edit the requester, assignee, category, and assignment group for the incident before it's pushed to ServiceNow

Caller: the requester or user filing the incident
Assigned to: the assignee
Category: equivalent to request types; group a request belongs to
Assignment group: equivalent to teams; assignment groups will allocate responsibility for a request to a specified team
Once a request is pushed to ServiceNow, the atSpoke request will lock. A locked request means that the request will be disabled and nothing can be added or edited including comments, reassignment, tasks, questions, followers, et al.
Locked requests will include a banner, a sidebar message, and updates with the ServiceNow incident link and that the atSpoke request is locked
When an atSpoke request is created in ServiceNow, we'll map the following:
| | |
| --- | --- |
| atSpoke request field | ServiceNow ticket field |
| Requester | Caller |
| Assignee | Assigned to |
| Team | Description |
| Request type | Description |
| Tags | Description |
| Questions & answers | Description |
| Tasks | Description |
| Request link | Description |
| Status | Description |
| Comments & updates | Description |
---
---