Analytics dashboards
An important part of any team member's job is resolving co-workers' requests. But sometimes you want to go beyond the one-offs and see how your team is performing. Other times, team leads want a birds-eye view of request themes and how they change over time. In addition to showing standard metrics like request volume, dashboards includes insights like auto-resolution rate over time and most popular request types.
Org-level analytics
Org-level analytics are available in-app for Admins and Team Members across all plan types.
Org-level analytics in atSpoke are available in the Analytics tab on the left sidenav. These metrics provide visibility into every interaction across your atSpoke org.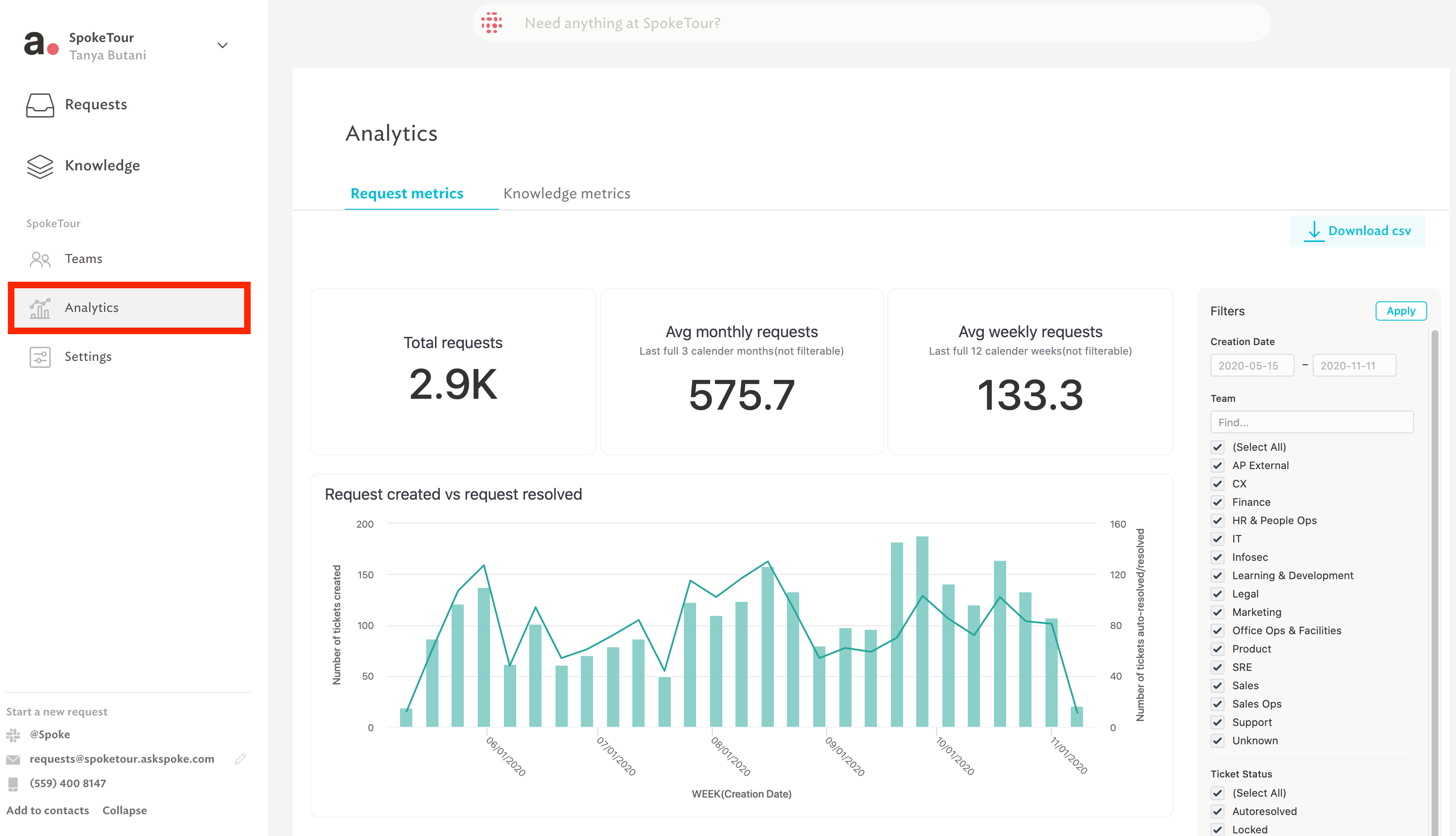 Dashboards
Use the + and – in the lower left of any trend report to increase or decrease the month granularity.
Request metrics
The request metrics dashboard provides insights into the number of created, solved, auto-resolved, and re-opened requests across your atSpoke org. It also includes:
Total requests
Average monthly requests (last 3 months)
Average weekly requests (last 3 weeks)
Requests created vs. requests solved
Request status snapshot
Average first response time
Average resolution time
Average first response time trends
Average resolution time trends
Most active request types
Most active request types by resolve ticket counts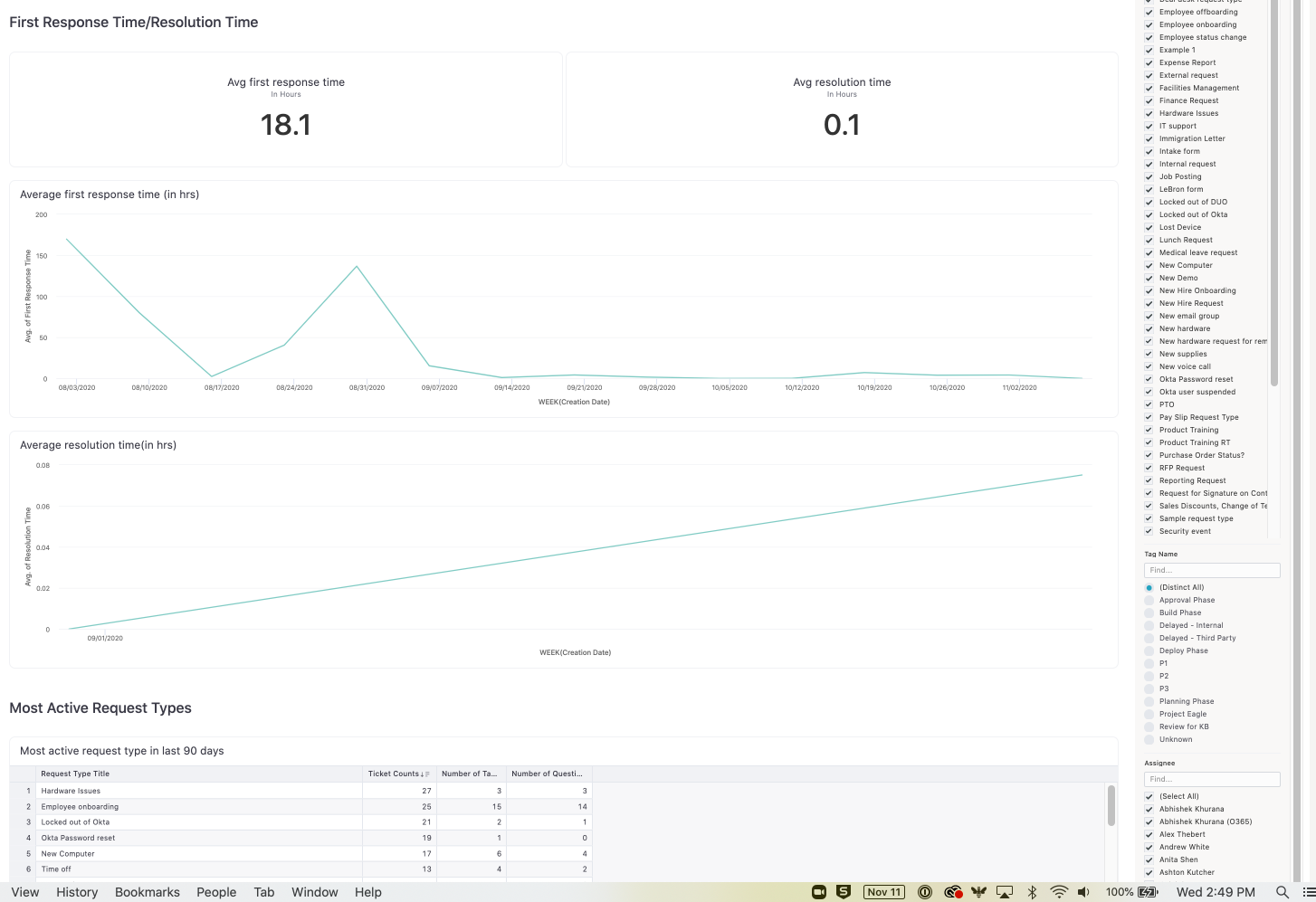 Knowledge metrics
The knowledge metrics dashboard provide insights into resource utilization across your org including:
Auto-resolution rate
Chat deflection rate
Auto-resolution rate trend
Total number of resources
Total number of KBs by creation date
Most popular KB resources, all time
Recently added KB resources, all time
KB resources coming up for review, all time
Recently flagged KB resources, all time
Filters
Filters apply to the entire dashboard, not specific metrics on a dashboard.
For additional flexibility, apply various filters to each dashboard to change the results of your query in the dashboard without changing the underlying query itself. Apply the following filters:
Creation date range
Team
Ticket status
Ticket channel
Request type
Tag name
Assignee
Requester's department
Requester's location
Employee type
Team-level analytics
Team-level analytics provide insight into team performance across request resolution and resource utilization. Unlike org-level dashboards, which capture data across all teams, team analytics are filtered by the team selected.
Team-level dashboards can be accessed by going to: Teams > select team > Analytics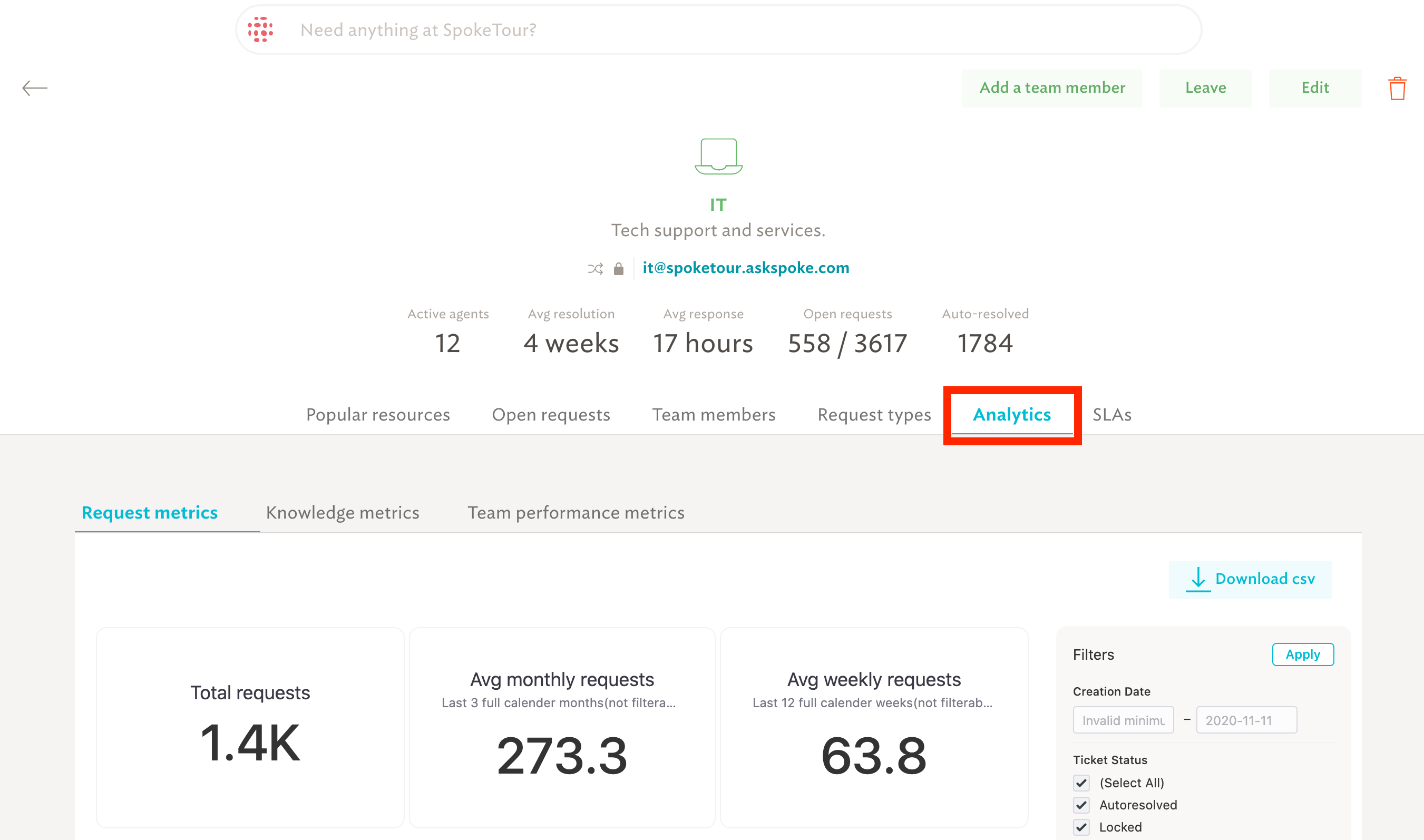 On the Analytics tab, you can easily toggle between Request and Knowledge metrics, apply filters, and download a CSV of all reports on each dashboard.
FAQs
How often is data synced and updated in atSpoke?
Once a day, every 24 hours.
Why's my team-level data is not the same as the analytics on the top of the team page?
The metrics at the top of the team page are captured and updated in real-time, whereas our dashboards refresh every 12 hours. The top-page metrics are calculated more generically in that we do not consider SLAs, business hours or weekends.
Why can't I see any data on the chat deflection rate in the knowledge report?
Our chat deflection report references our Slack and Microsoft Teams integrations. If Slack or Teams is not enabled or used frequently, this report will likely be empty.
Why do some reports not reflect the filter I selected?
(1) We default select and display the time range for specific metrics (i.e. average ticket count for the last 3 months) or (2) certain metrics are not feasible for the filtering (i.e. knowledge article author is not filterable for auto-resolve rate).
I saw the URLs for a request or resource, why didn't I see anything when I clicked on it?
The request and resource links on dashboards still respect any visibility settings or permissions that have been defined (i.e. private requests or resources only visible to users in a specific location). Hence, even though we are able to highlight the items on the dashboard, the dashboard viewer may not be able to access those links in detail.
What is the data timeframe showing on the dashboard?
You can access any report data for the past 180 days.
---
---