Inbox Folders
atSpoke organized the requests into four different categories to make it easier to find what you need and take action. We have outlined the folders for you below.
Inbox
The inbox folder will have all requests that have been assigned to you. You can view all requests, open requests, pending requests, and completed requests.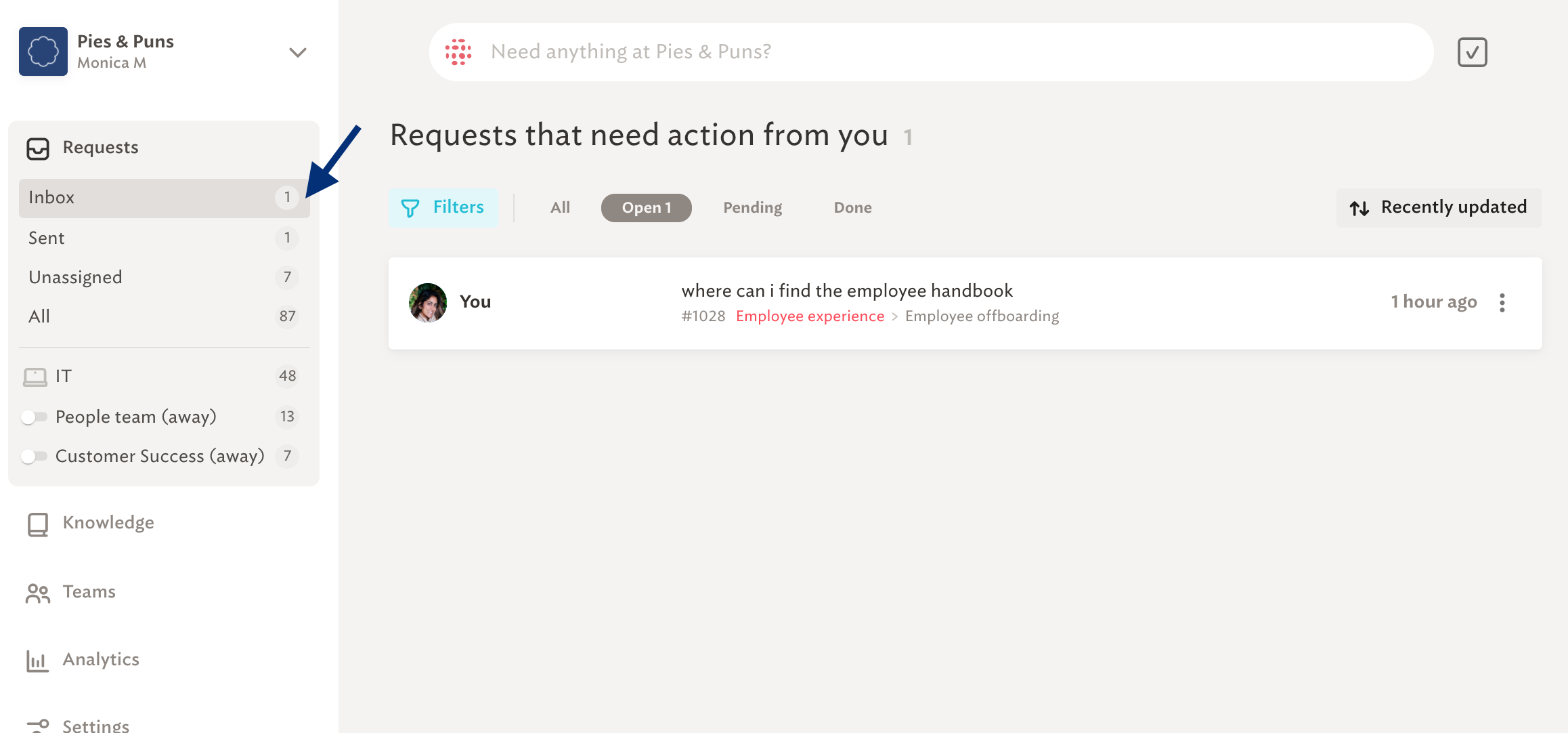 Sent
Sometimes you'll need to add more details to your request, or just want to check in on how things are moving along. Use the Sent tab to review any requests you've created.
Reviewing requests in Sent
Click 'Sent' to enter the Sent request view in atSpoke's web interface. Next, select the specific request you'd like to check.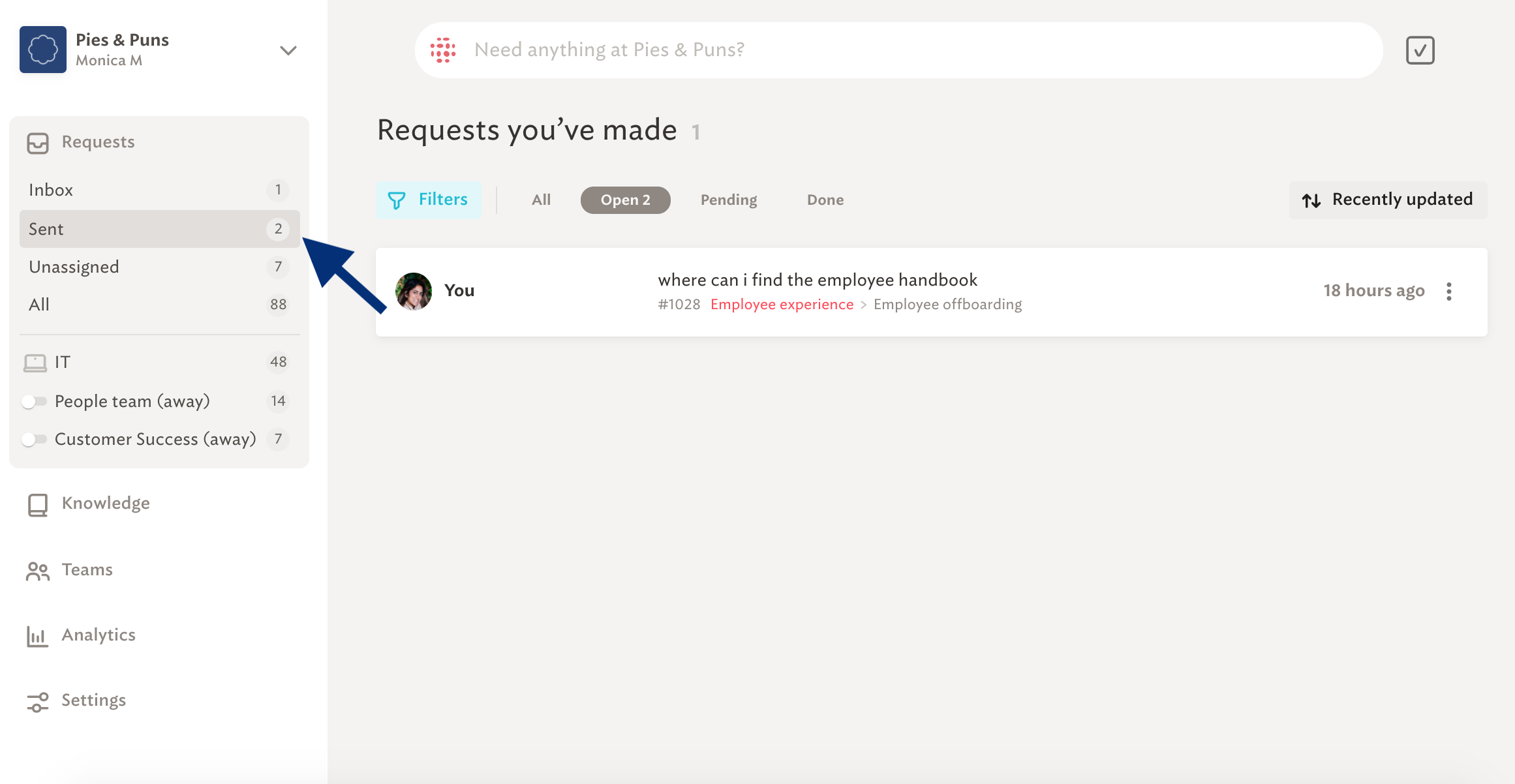 In the expanded request view you can make any changes you need to in the request.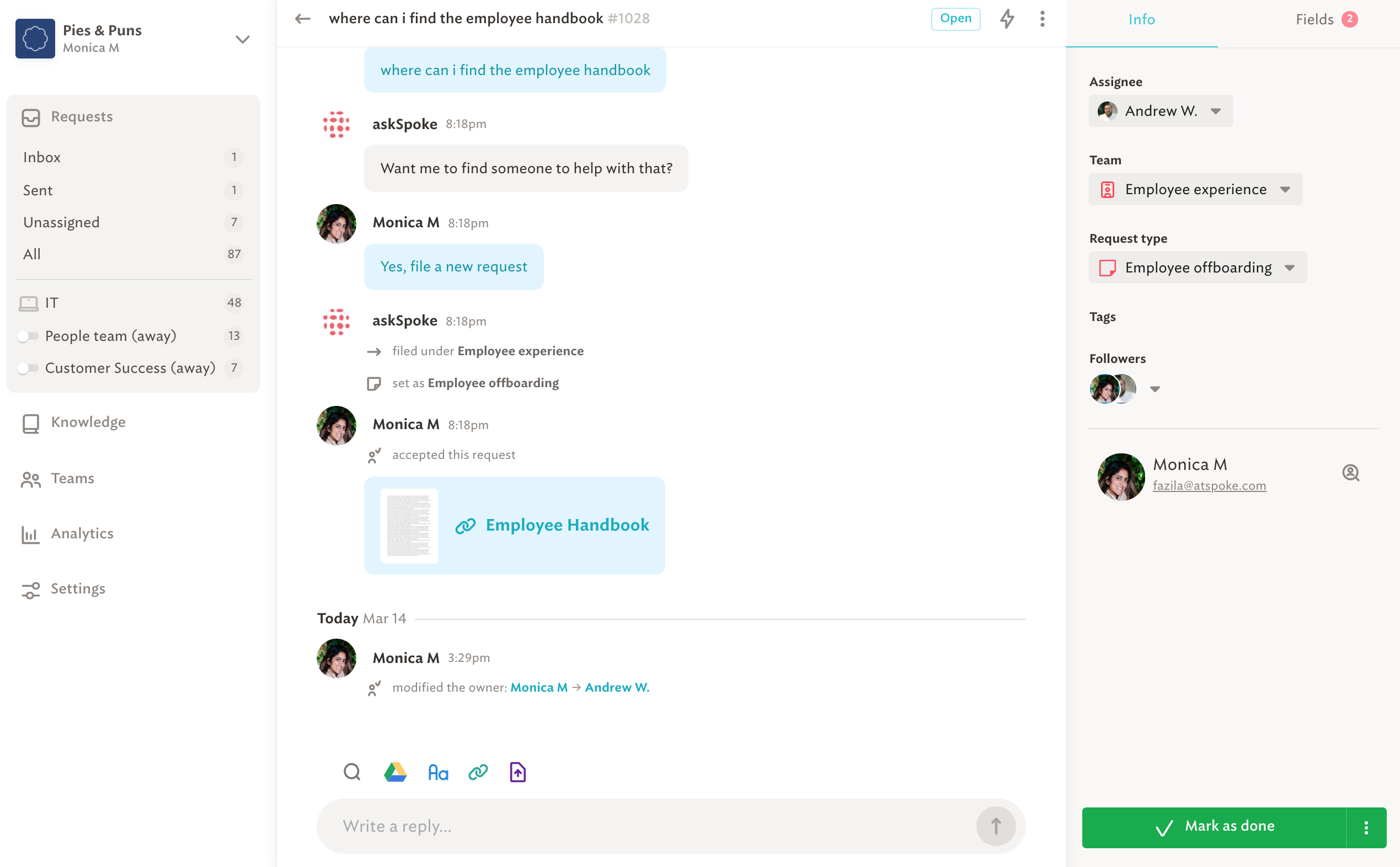 If you need to add a reply, use the "Write a reply" bar on the bottom of the screen. New information will cause atSpoke to notify the assigned agent about an update to the request.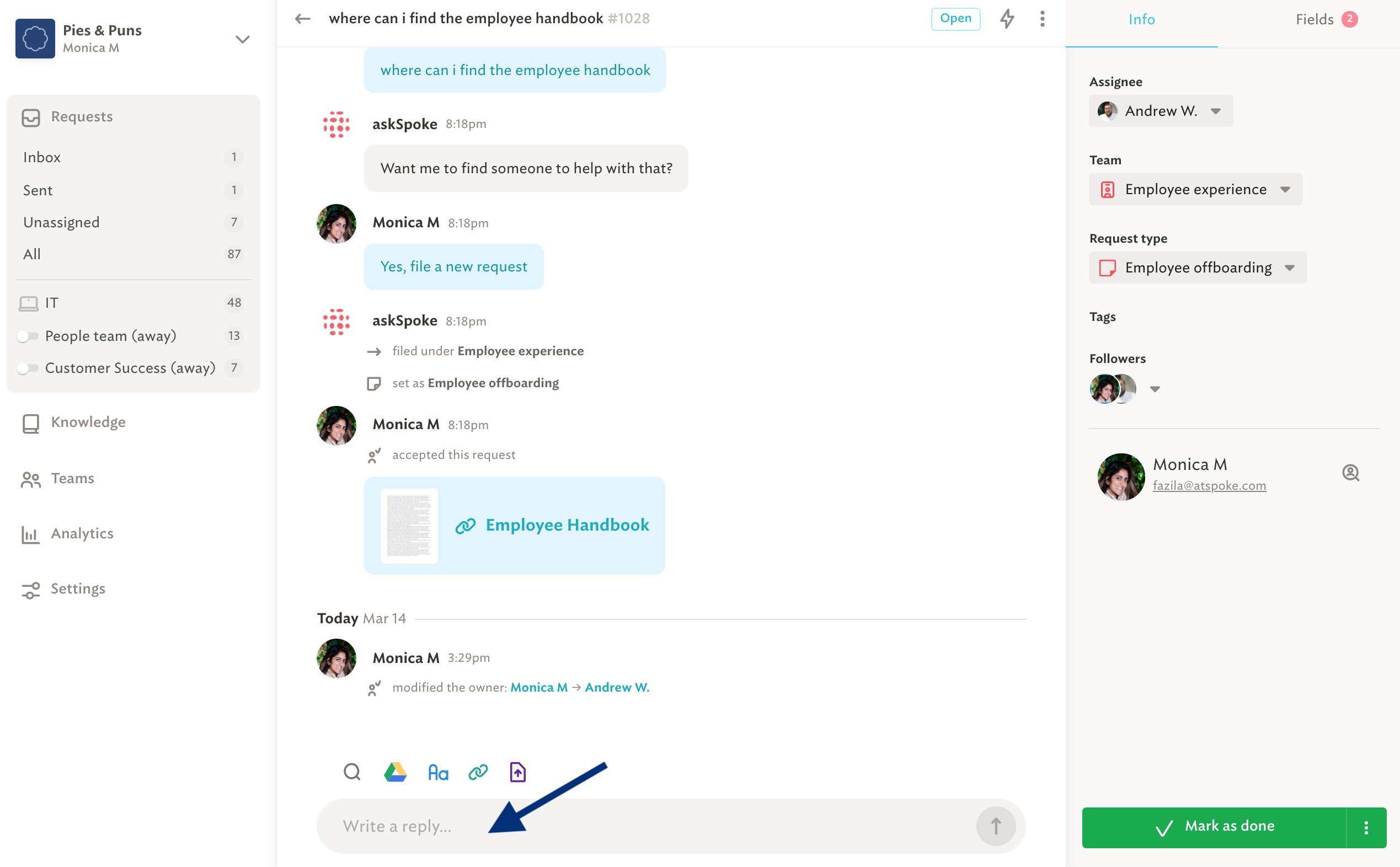 By selecting the three dots in the top right of the expanded ticket, you can copy the request link, merge requests, make the request private, export the request as a PDF, or delete your request.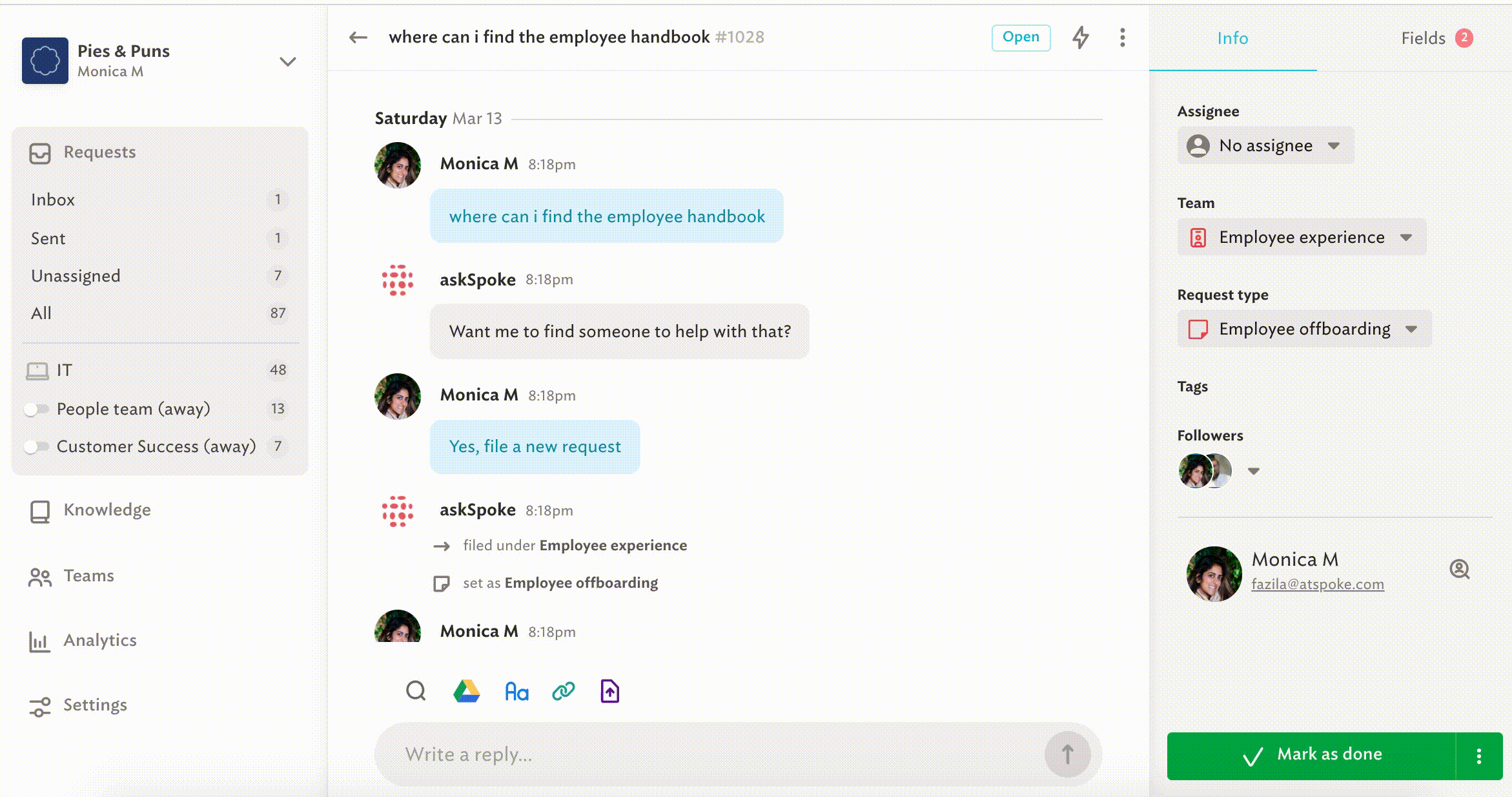 Unassigned
atSpoke will always try to route new requests to the right team. 
If atSpoke doesn't know who should get the request, it'll show up in the Unassigned tab and wait for you to assign it to the right team member or handle it yourself. 
Please note: Public unassigned requests are visible to all team members and admins, regardless if they are a member of that team. Private unassigned requests are only visible to those on that respective team.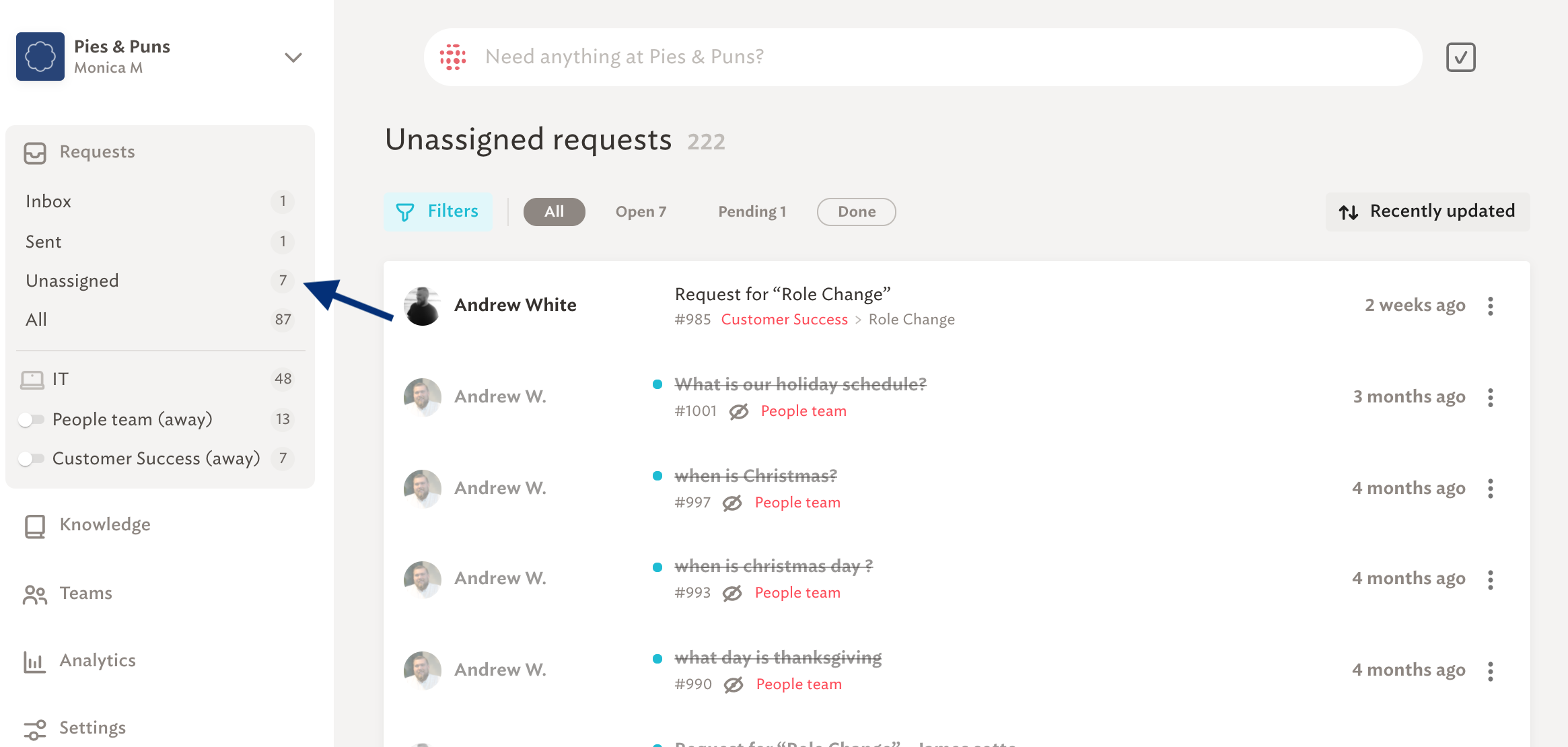 All
atSpoke's "All" folder allows you to filter and search requests, and when you find what you need, take action in bulk! The All folder contains all requests that have not been marked as private. Check our specific articles to find more information on Private requests and Privacy settings for requests.

Bulk actions
Sometimes you need to edit requests in large groups. Maybe you want to reassign requests when going out of office, or maybe you need to delete some requests created during testing. Either way, atSpoke makes it easy in the "All tab.
Hover over the avatar on the left side of a request to expose a checkbox. Use these checkboxes to select which requests you'd like to edit.
Once you have selected your requests, press the button at the top that says "# requests selected" to reveal options for editing the request.
Bulk edit options
File under - change the team to which the request is assigned.
Assign to - edit to whom the request is assigned
Merge Requests- Combine two requests together. More information here.
Mark as done- Close a request
Reopen-Open a closed request that needs to be changed
Mark as pending - If you are blocked and cannot resolve the issue, use pending
Mark as private - change a request to public
Mark as public - change a request to private 
Add tag- Mark requests with one or multiple tags
Delete - Requests can now be deleted in bulk.
Search
In addition to filtering requests, the filters button also reveals a search bar. Use this field to search the requests. This search indexes the request title, and words in the request.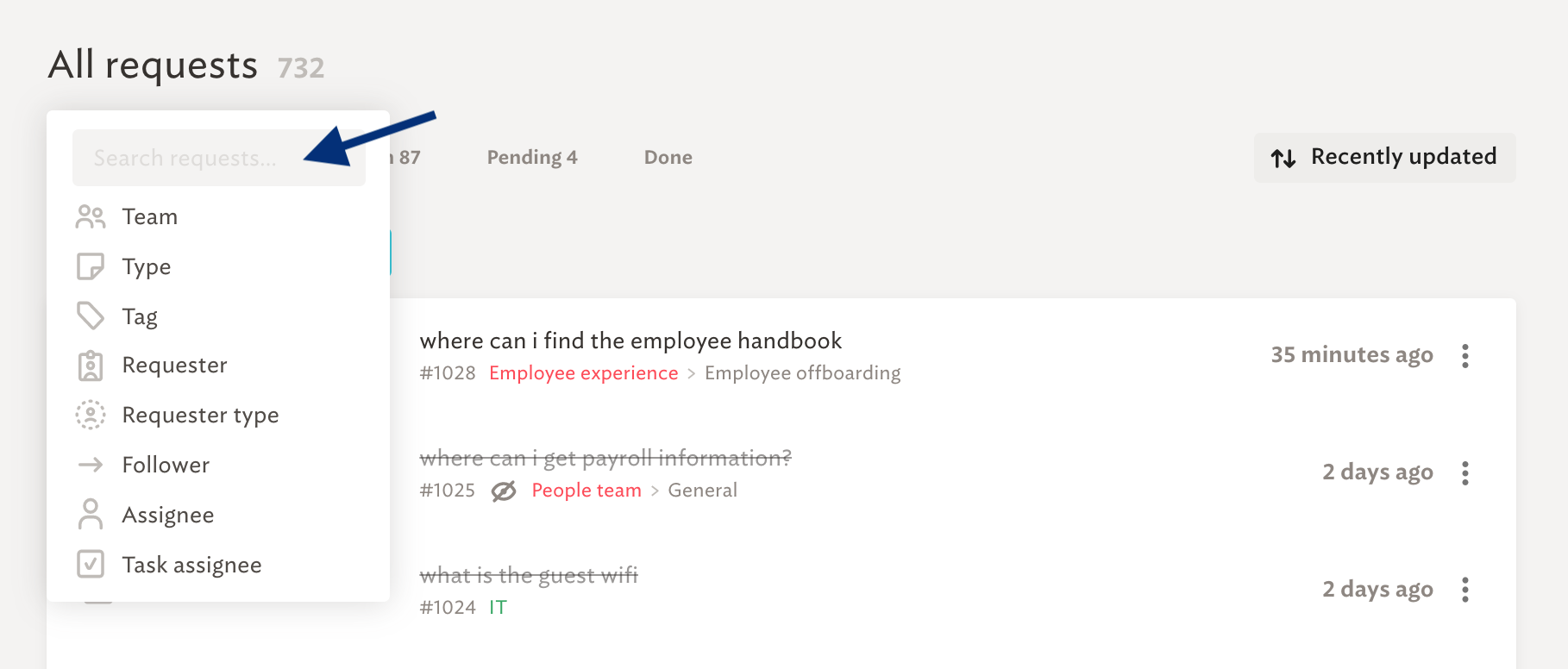 Request filters
When receiving a high volume of requests, you may need to filter to find what you need. Choose to view requests by status (Open, pending, or done) or click the filter button to reveal new filters. Learn more about filters and custom lists here.
---
---