Action tasks (Workflows Edition)
Integrations support action tasks, which allow you to trigger any third-party action as a task on a request.
Only Admins can view, enable, configure, edit, and disable Integrations
Setup
We've enabled specific actions for each integration that can be toggled on or off.
Navigate to Settings
Click on the Integrations tab
Click on an integration tile
Select the Teams you want this integration to be available for
Select the Actions you want to be available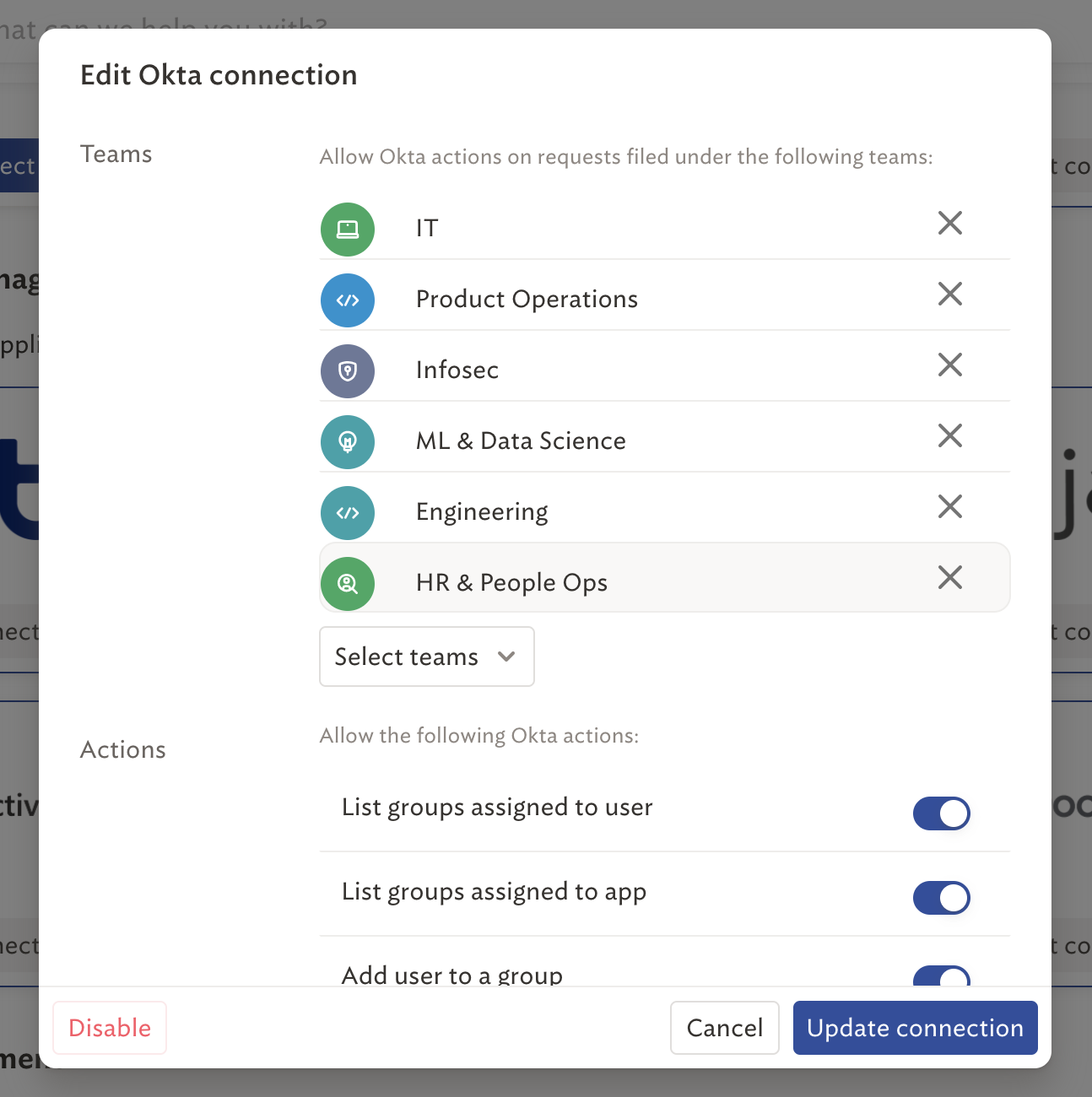 Adding action tasks to Workflows
Navigate to Workflows to add action tasks. When editing tasks, there are now three options:
Custom task, for adding a traditional task
Add an approval task, for adding tasks that require an approval
Integration icons, for adding a task that triggers an action within an integrated third-party app
Click on an integration and a menu with the list of enabled tasks will open.
Selecting an action adds it to the list of tasks. You can rename the task and make any other task-related changes from the details view in the right side panel.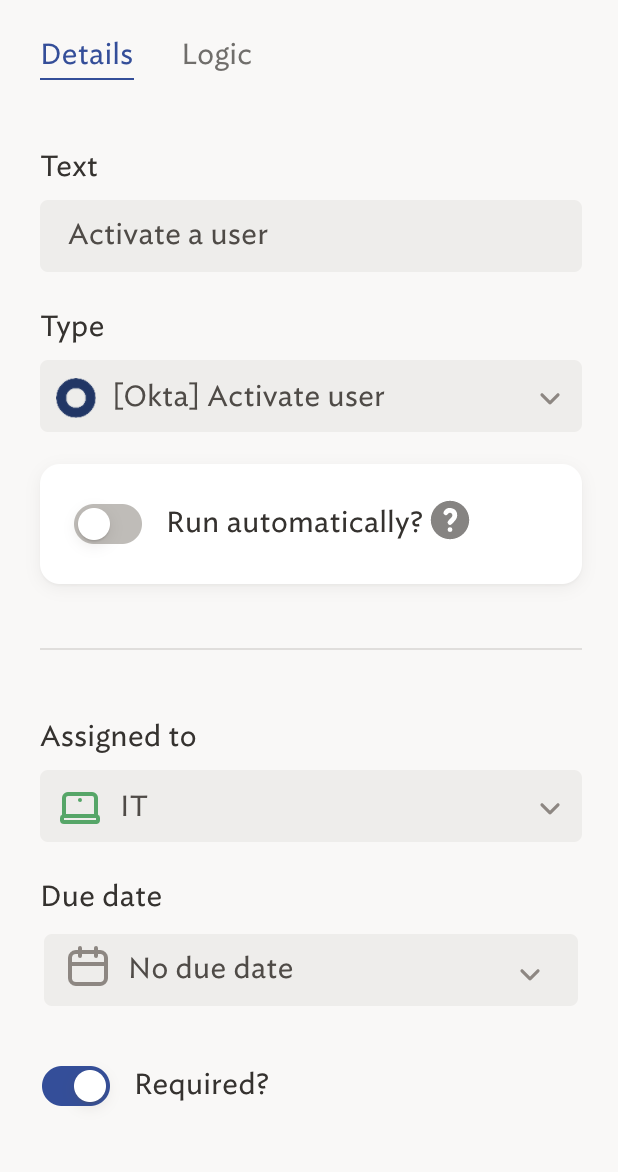 Manual action tasks on requests
Action tasks are displayed just like any other task, but with the checkbox replaced by a similarly-sized button with the integration logo.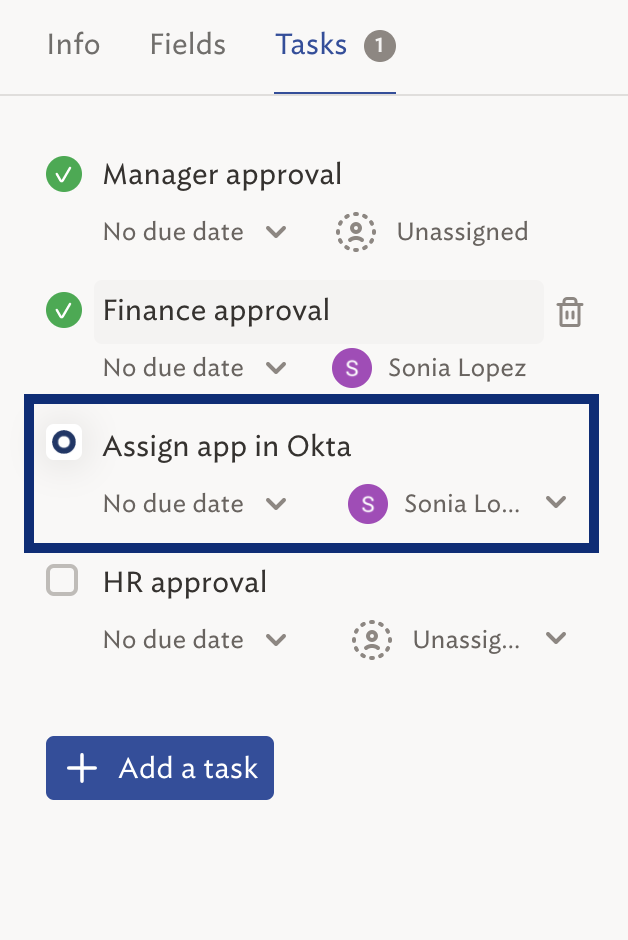 For manual tasks you can click on the integration icon to trigger or run an action task: click on the logo, fill out any necessary information.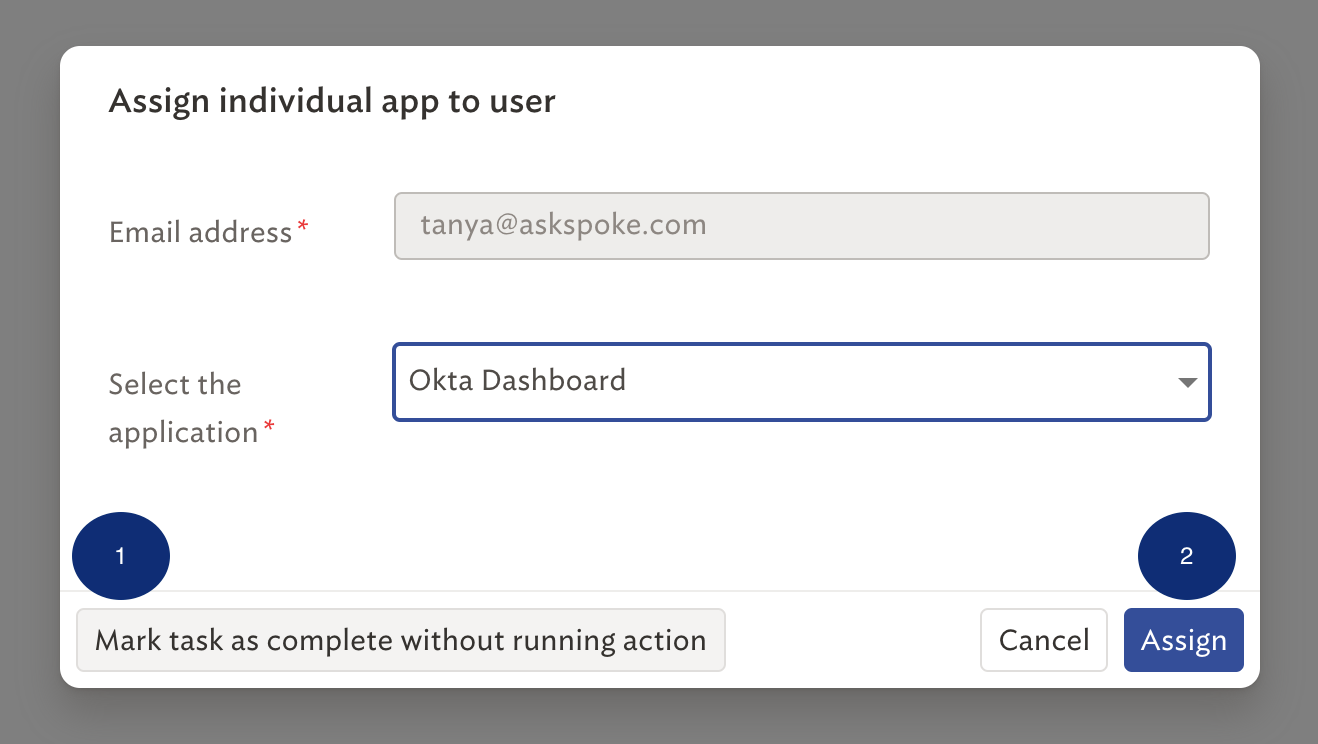 Mark the task as complete without running the action through atSpoke
Click assign; this will trigger the action to run
Information pulled from third-party application are only visible to the user who ran the action. We privatize all action responses, but indicate the action was ran.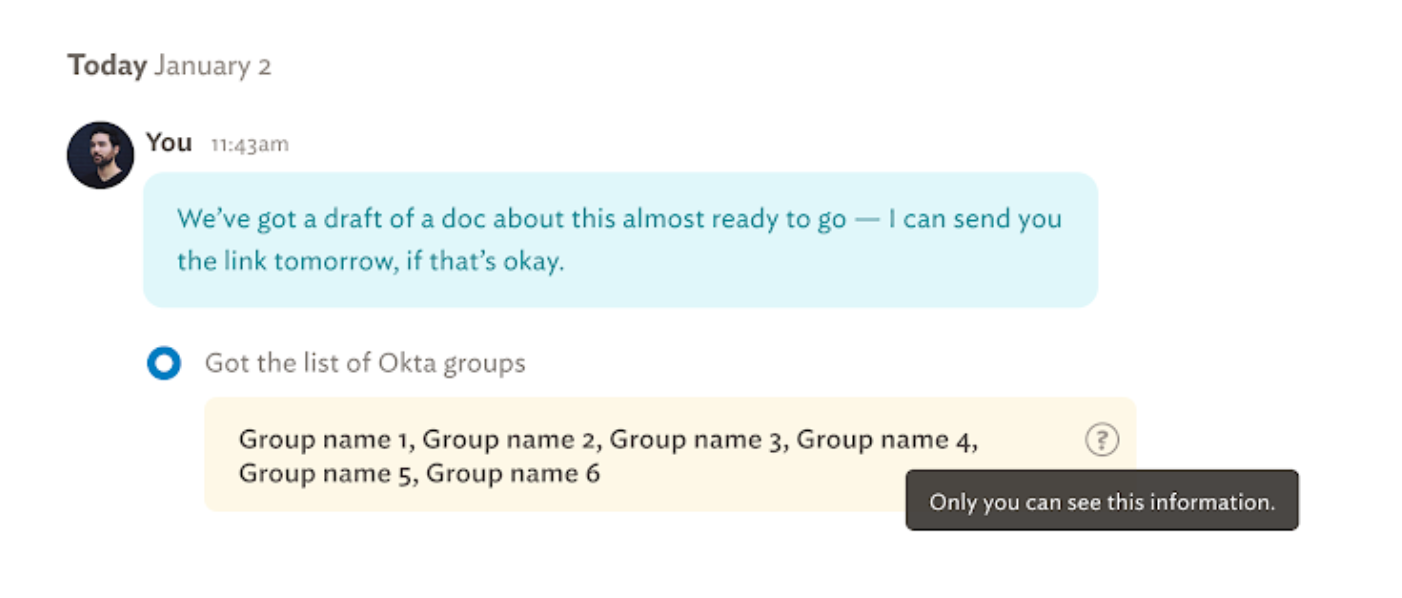 Automated action tasks
Action tasks can also be run automatically by atSpoke. This enables the self-service feature of Workflows.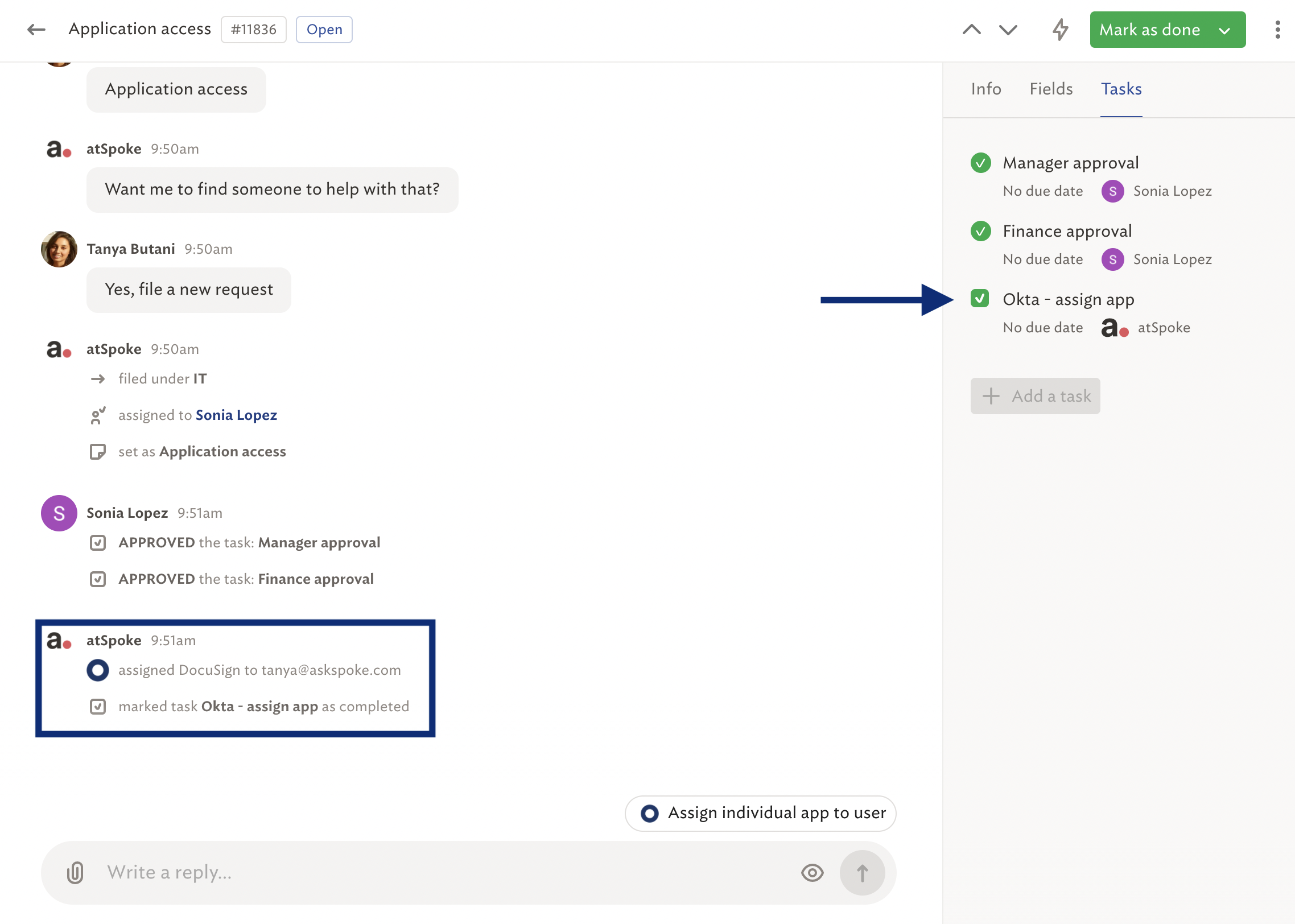 The task will run once Finance has approved the application. The request will be left open until "Marked as done."
If atSpoke is unable to run the task automatically, the task will be assigned to a member of the assigned team.
Action tasks across channels
Action tasks can be triggered from Slack or the web app so you'll never have to pivot to complete workflows in third-party applications. You'll be notified in Slack similar to a traditional task action. Click Run Task for manually assigned tasks in Slack to kickoff the third-party action; if set to automatically run then the thread will indicate atSpoke has completed the task.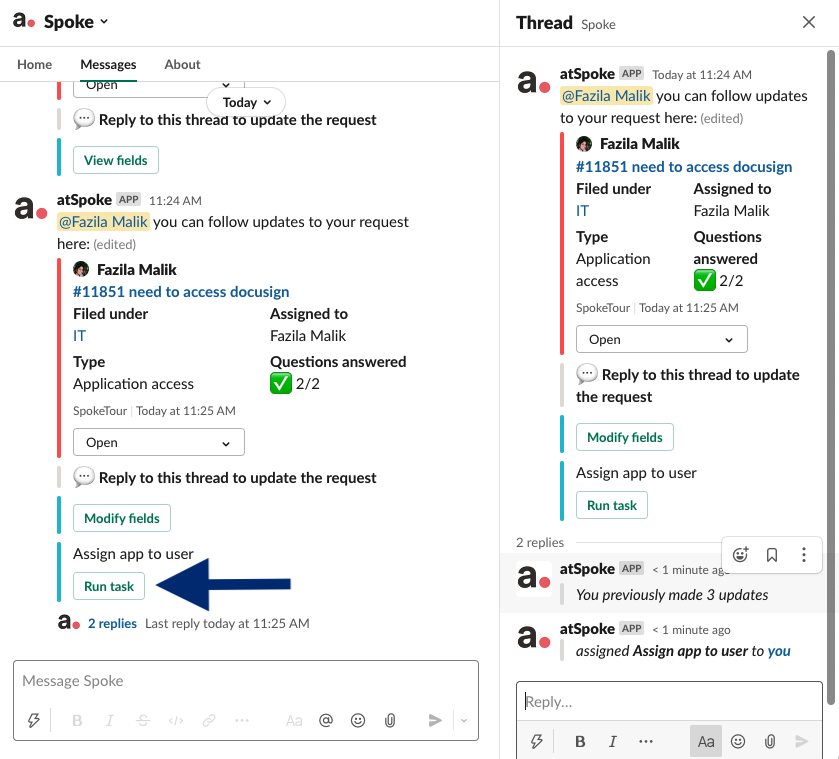 Once you've completed the task, you'll receive a threaded update in Slack.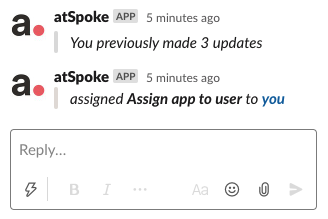 ---
---