Configuration items
With multiple request types there are times where an identical question with identical options will need to exist in two different places. For this we have configuration items that can be set at the organization level that can be synced to both questions. atSpoke continues to be committed to giving you time back by streamlining our workflows.
Users can create Configuration Items directly in atSpoke or pull in applications lists from third-party identity providers. We currently support application lists from Okta and Google Workspace. Third-party items will sync once a day and reflect all updates.
Configuration Items are available on our
Business and Enterprise plans
and can only be created by Super Admins. Team Admins and Super Admins have visibility.
Creating a Configuration Item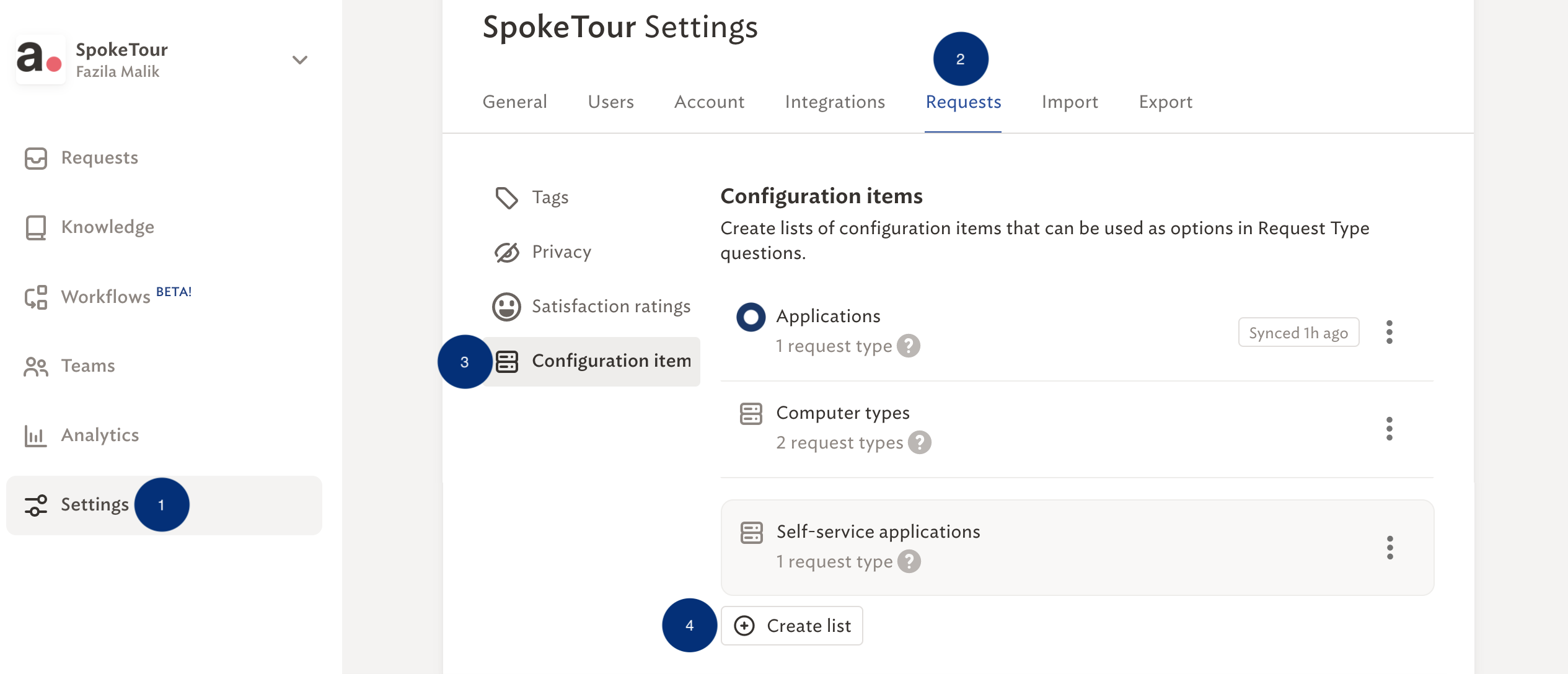 Navigate to Settings
Select Requests in the menu
Click Configuration Items
Click "+Create List" to add a List
An existing list will include the name, number of request types it is used in, and a "..." icon

Click the "..." icon to show options
For synced lists you can sync now, edit list, or delete list
For internal lists edit list, duplicate list, delete list
Sync List

External lists display the timestamp when they were most recently synced
Sync on demand by selecting "Sync now" from the drop down, after you click you will see a modal indicating the list successfully queued for refresh
Edit list
For internal lists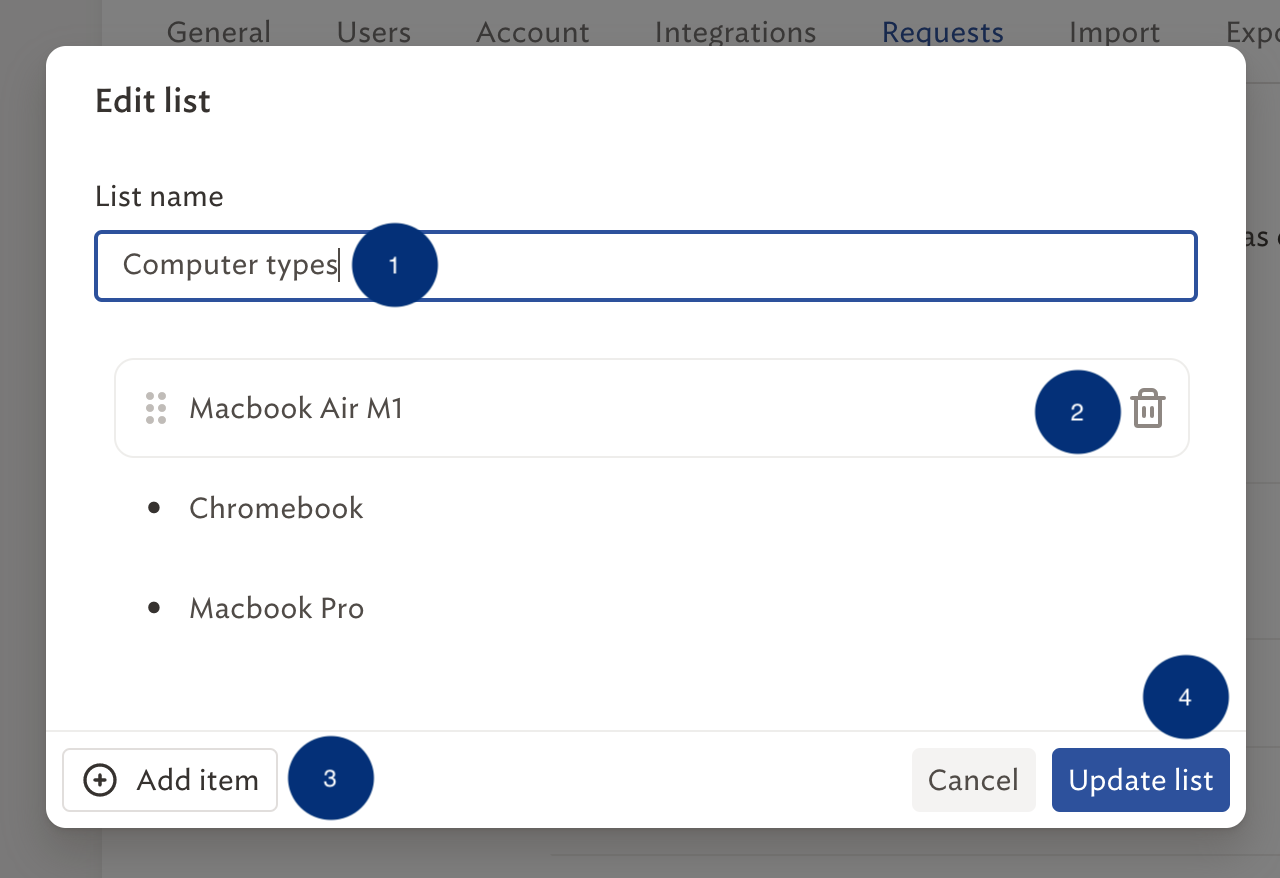 Free text to change the name of the list
Hover over the item to reveal the trash icon to delete an item
Add item to the list
When you are done make sure to update list.
For External Lists, the options are to sync now and update the list.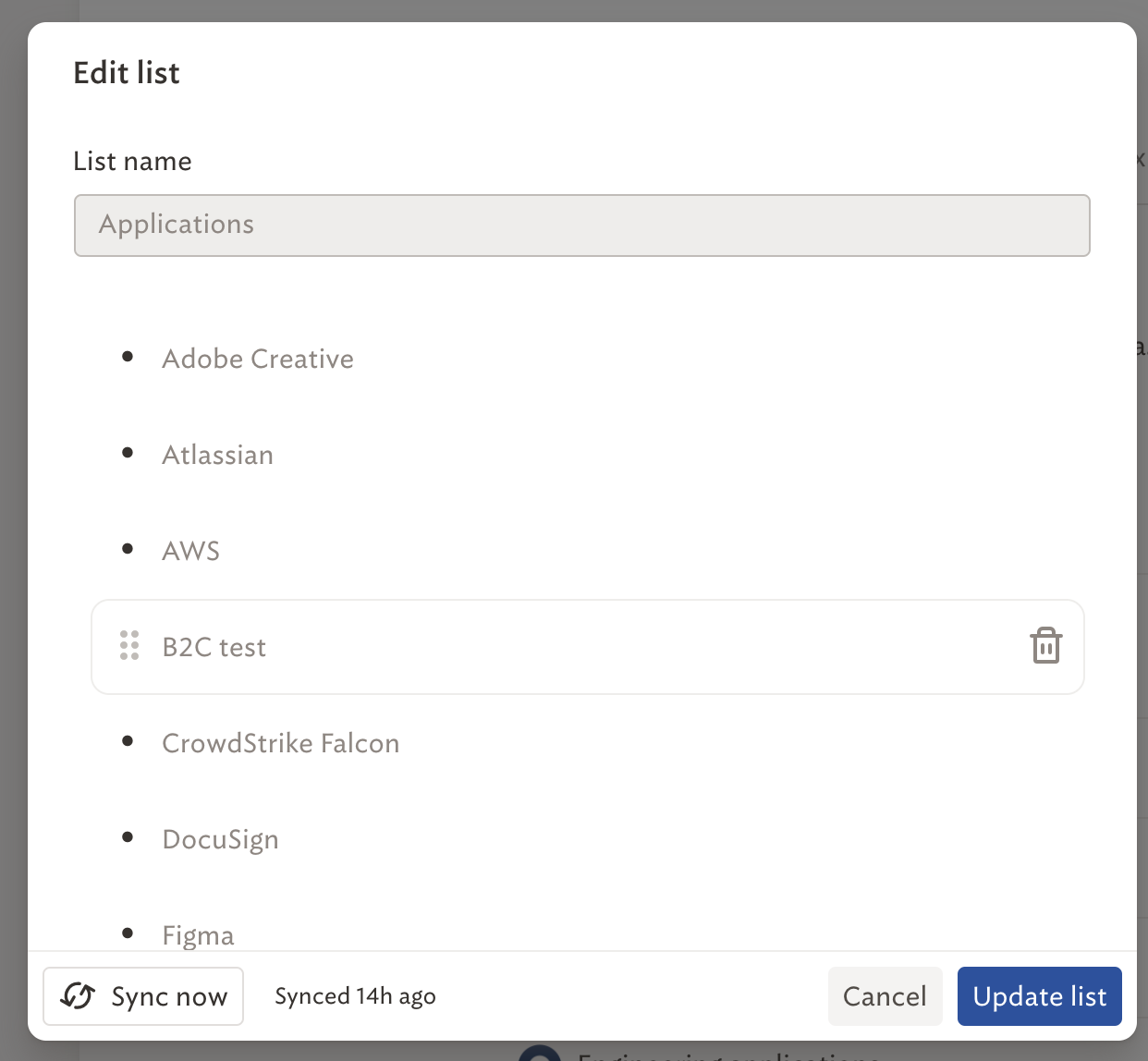 Duplicate list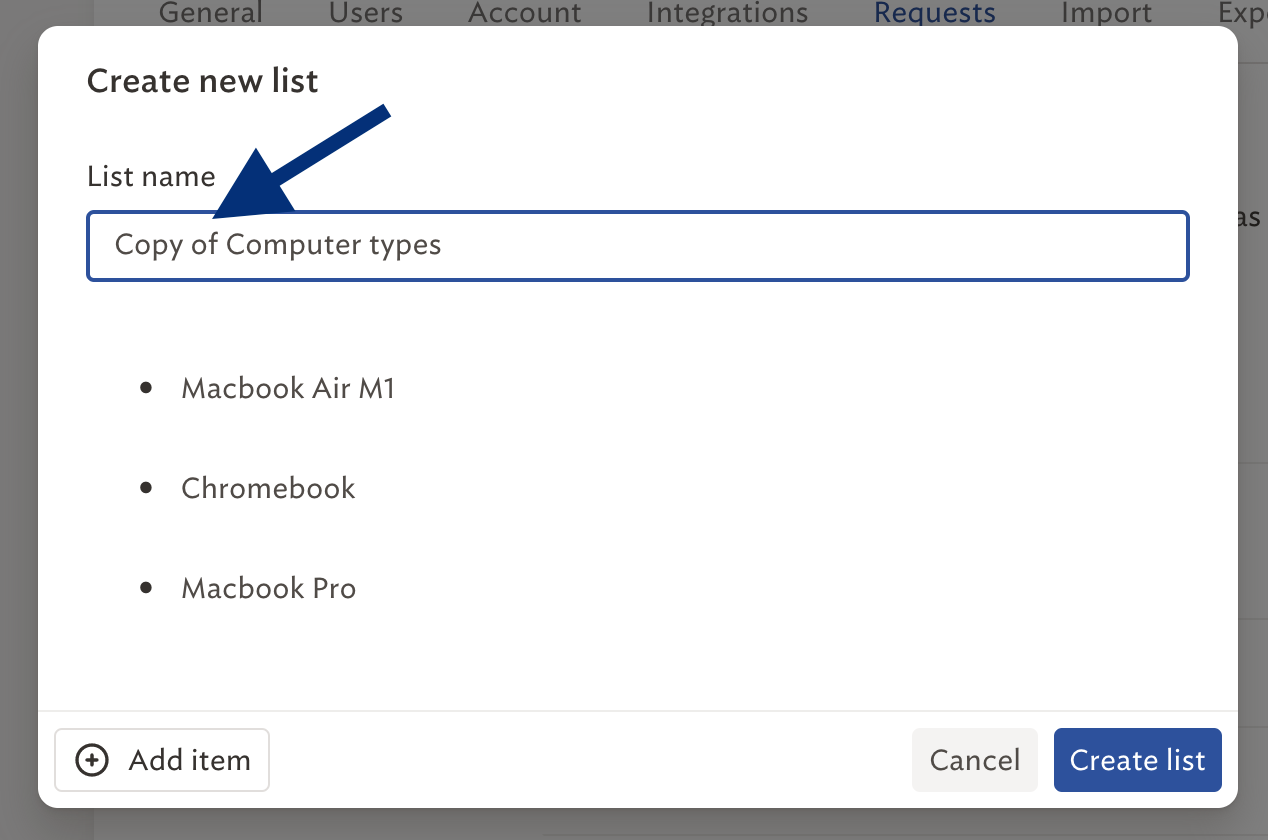 When you duplicate a list all the content will be pre-filled with the content from that list. The new list title will be "Copy of [previous title]." This will ensure no two lists have the same name.
External lists cannot be duplicated.
Delete list
You can only delete a list if it is not being used by any request types. This will also be indicated by disabled delete option. When you are able to delete a request a confirmation modal will appear

Using Configuration Items in Request Types
For details on editing questions in a request types refer here.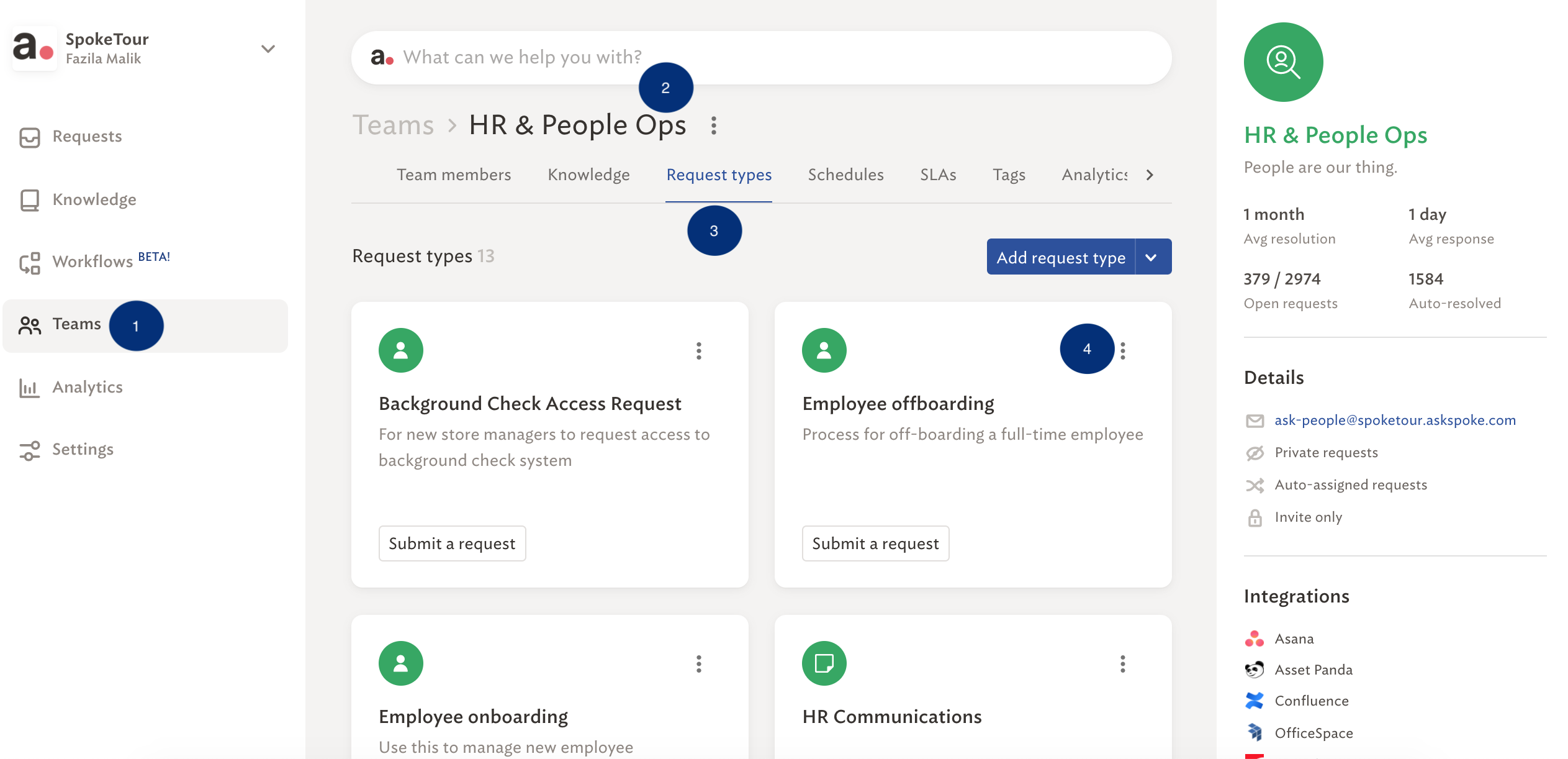 Navigate to Teams
Select the team owner for the Request Type
Select Request Types
Add a Request Type or Edit Existing request type with the "..." icon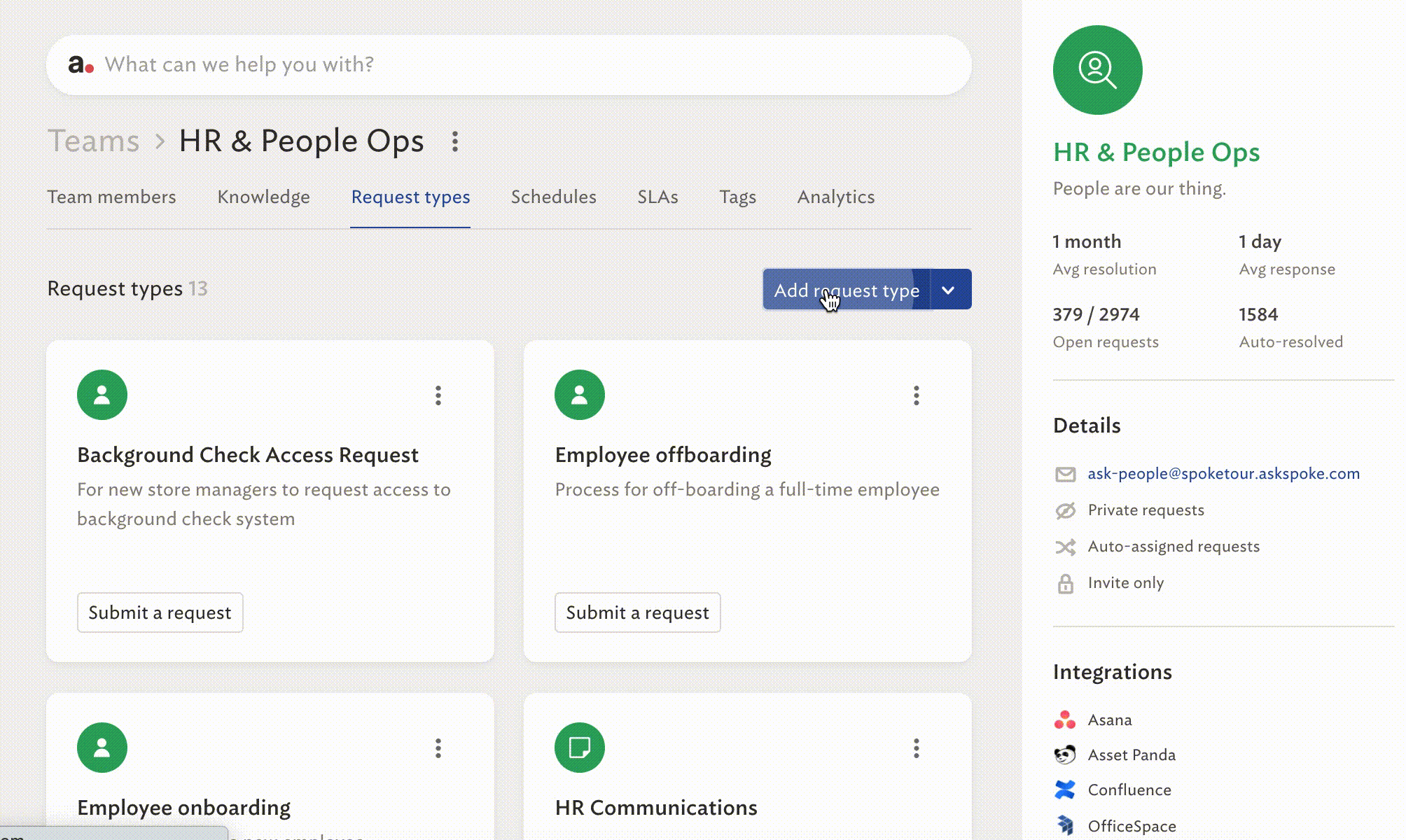 Scroll to Fields
Add Field
Select Options: Custom Options
This will show the configuration lists available
Select the Configuration Item you want to include in the Request Type, you are set!
Only Super Admins can make changes to Configuration Items
Syncing with Okta and Google Cloud
We will also pull in application lists from third-party tools like Okta and Google Cloud. Lists are automatically pulled and synced once a day. If you create a new application list in Okta or Google Cloud, you should see it populate in the Configuration Items list.

Okta
A list of "All applications" in your Okta instance, which syncs all the active applications in your instance.
A list of "All groups" in your Okta instance, which syncs all the active groups.
A list each, for "<GROUPNAME> applications" to sync specific applications owned by specific groups.
Google Cloud
A list of "Google cloud projects"
A list of "Google cloud roles"
In case you don't want some of these things in your instance, you can simply Edit or Delete the list, and the sync will respect that in the future.
---
---