Training: team members
Working on a team, there are lots of questions

These are now questions for atSpoke! This guide will introduce you to the atSpoke web interface, and help you get acquainted with making requests.

The dashboard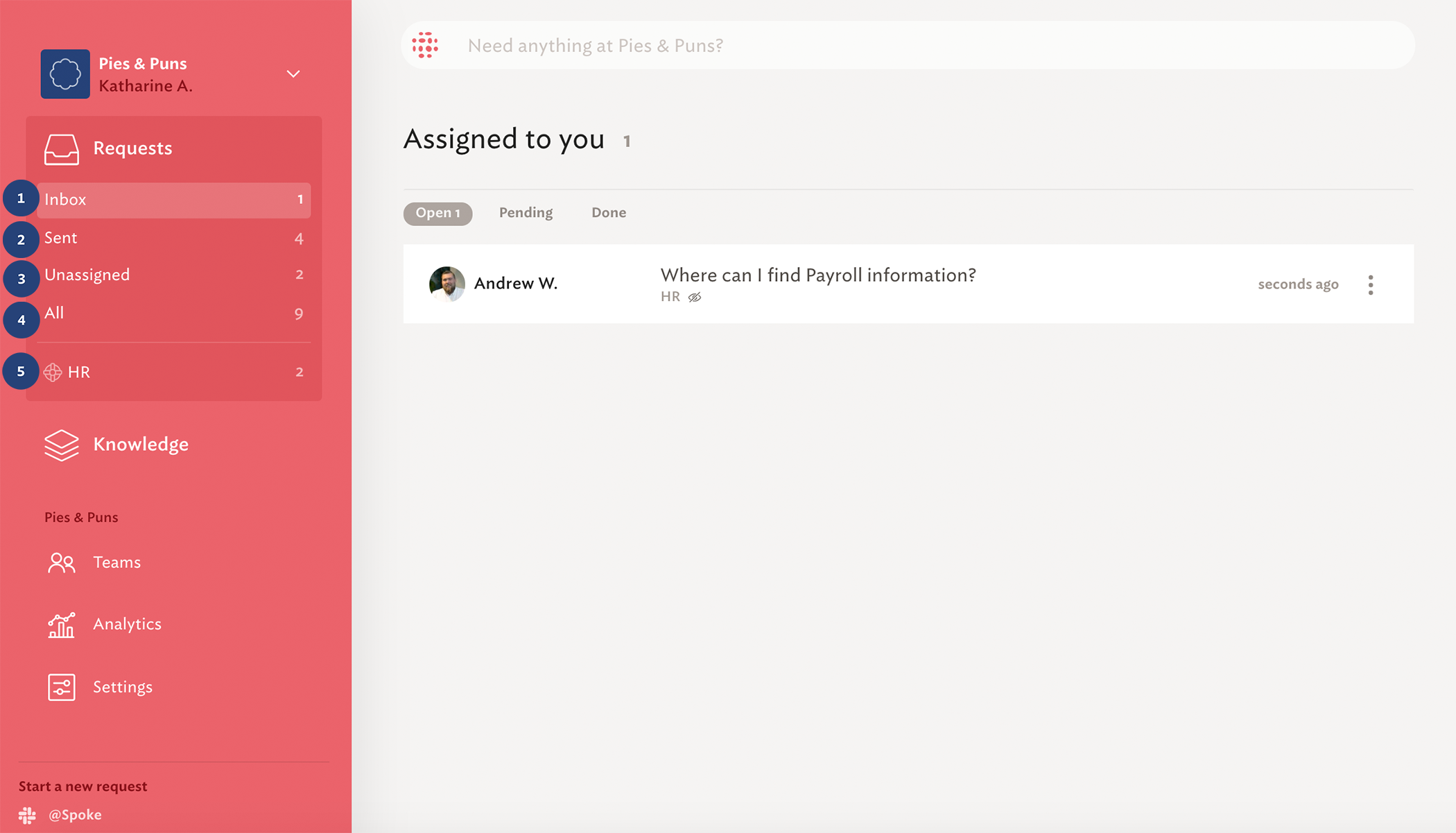 The Inbox holds all requests currently assigned to you.
The Sent folder holds all requests which you have created.
The Unassigned folder holds any requests which are not filed to an expert or to a team. This only shows to team members; requesters not on a team, won't have "unassigned."
The All folder holds all publicly visible requests.
Team Specific Folder (In this case HR) - You will see a folder for each team you're on. All requests assigned to your team will show here.
To make sure no requests fall through the cracks; go into the 'unassigned' tab, and turn the 'subscribe' toggle in the top right to 'On'. Now you will receive an email whenever a request is sent to unassigned.
* Private requests not assigned to your team will not be visible in the "all" tab

Requests
Log into the atSpoke; you'll notice a bar at the top. This allows you to create requests from the web.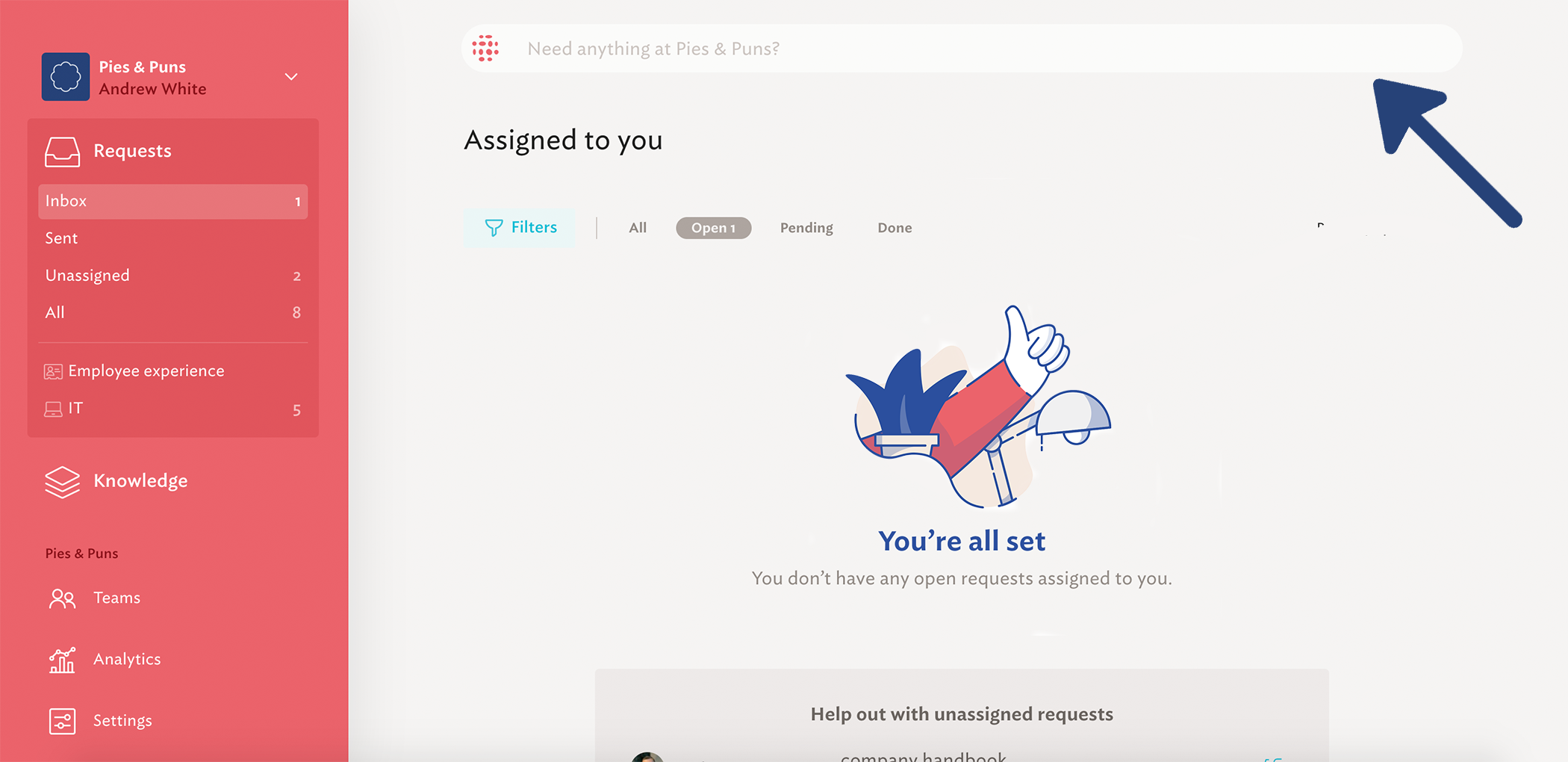 ​In the lower left corner of every atSpoke account, you will find the addresses that you can use to create requests.​While there are many channels that can be used to ask atSpoke, some actions can only be completed in the atSpoke web interface.
Triage tasks (assigning, reassigning, changing team, etc)
Respond to requests using knowledge base resources
Create knowledge base resources
Mark the request as resolved

Request Actions
​By selecting the three dots to the right of the request, you can accomplish 3 main actions from any folder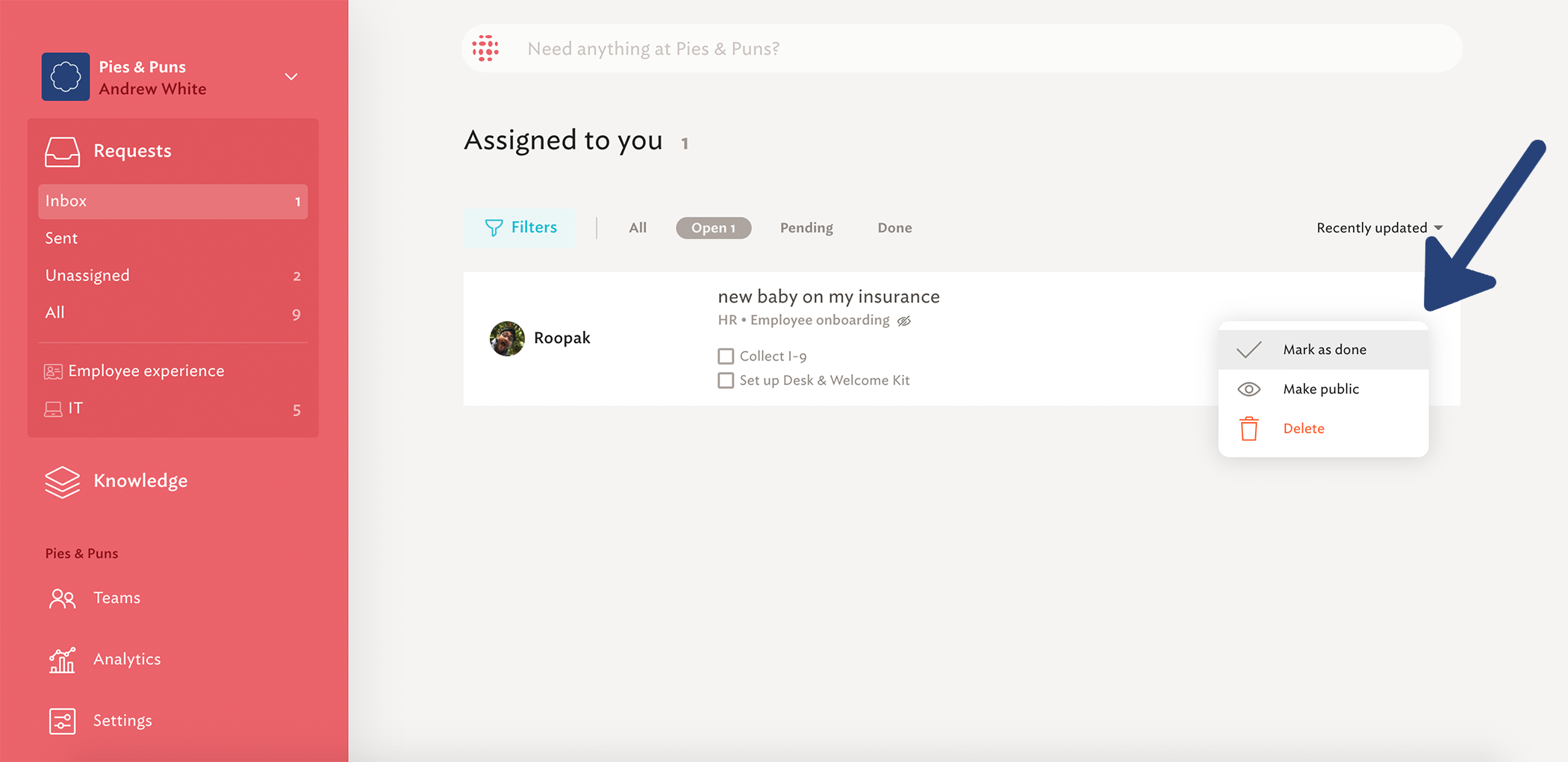 Mark as done - If a request has been resolved, Choose Mark as done
If the request contains private details, select Make private to hide it from other users not on the assigned team. More information about private requests can be found here.
Delete the request,  if you've changed your mind.

Expanded Request view
Clicking on a request in any folder will open the Expanded Request view. From this view there are a number of actions which can be taken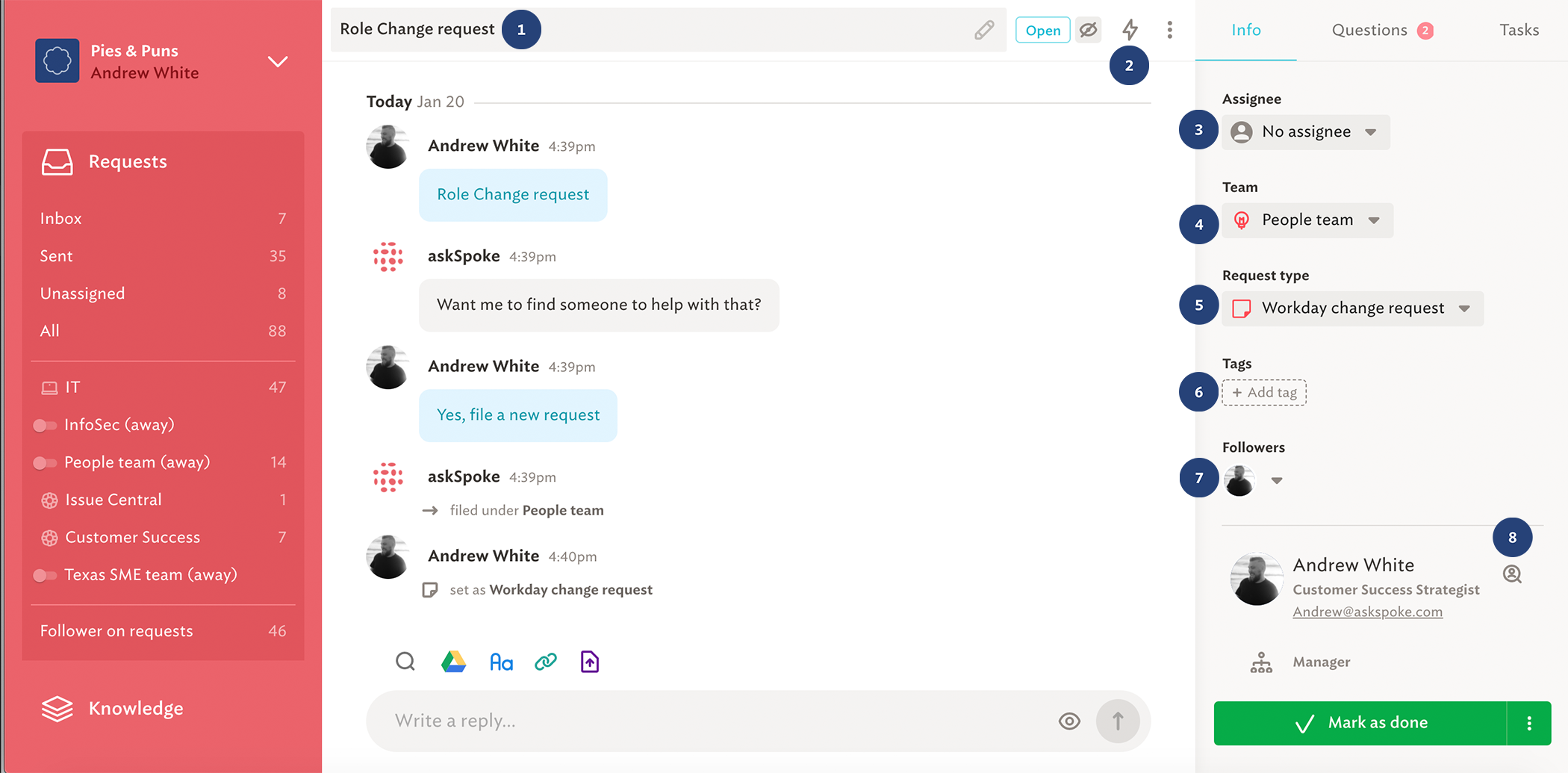 Click the request title to change the title of the request
Click the Bolt icon to view available integrations.
The Expert handling your request
Which team is reviewing your request (click the down arrow to change teams)
The type of request you've made or Request Type (click the dropdown to change type)
Tags which have been added to this request.
Who is following this request (use "+" to add followers or @mention)
The person who created this request (Click the Magnifying glass to choose a new requester)

Actions in expanded request view
By selecting the "..." in the top right of the request you can change the visibility of the request or delete the request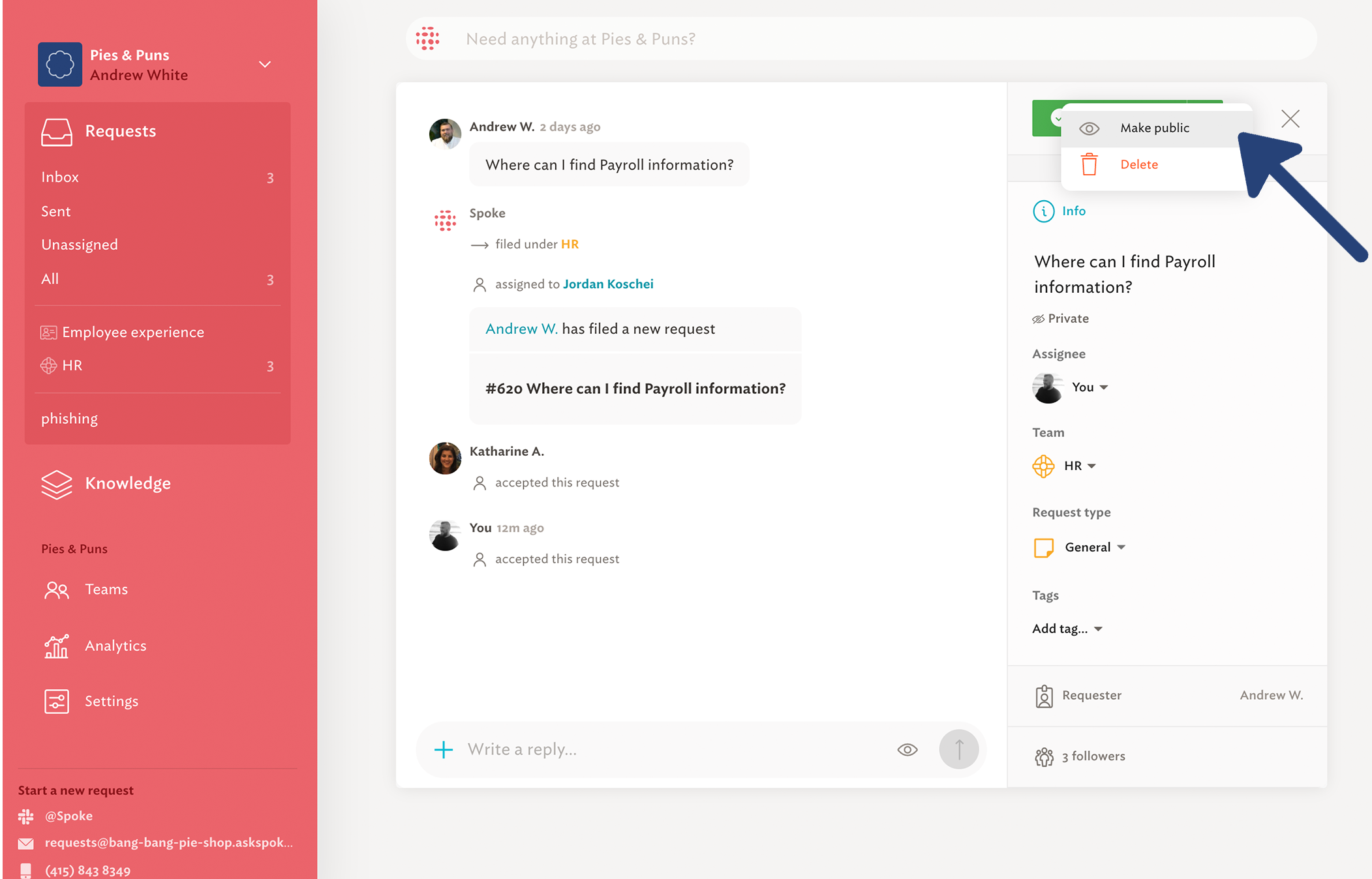 Your profile
You can access and update your profile at any time by selecting the down arrow next to your company name in the top left of the screen, and selecting 'my profile'  from the dropdown.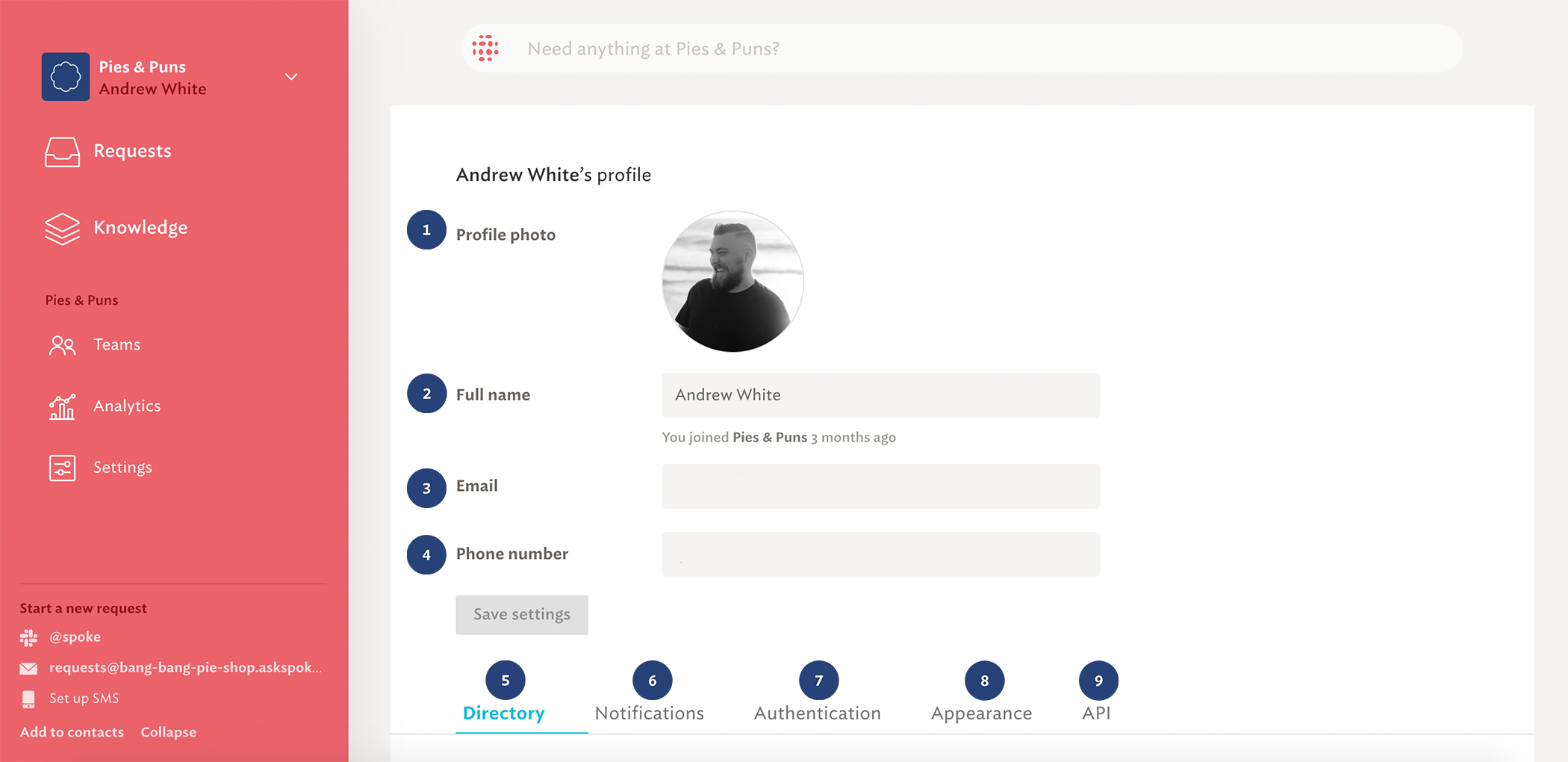 Profile Photo - Add a Profile photo to help other users put a face with your name!
Full Name - Enter the name you prefer to be called
Email - Make sure your email address is correct
Phone number - Add your phone number if you'd like to use SMS to contact atSpoke.
Directory - This information is populated by integrating with your HRIS, or Identity provider

Once an integration has been turned on, directory fields are not editable. (Reach out to your admin for help changing these details.)

Notifications - Choose how you'd like to be notified of atSpoke requests; Slack, Email or both!
Authentication - Change your password, and view authenticated apps (like Google) here
Appearance - Don't love our persimmon colored navigation bar? No worries! You can choose from one of our other themes to personalize your home screen*
API - Generate a key from this menu to access atSpoke API. More information on Starting with our API can be found here.
*Changing the appearance will not update the home screen for anyone else's atSpoke, don't fear!  
---
---