Greenhouse integration
atSpoke is excited to offer an integration with Greenhouse! You can enable the connection to track applicant status directly through an atSpoke request.

Setup:
Navigate to Settings
Choose the Integrations menu

Scroll to People management section
On the Greenhouse tile, click Connect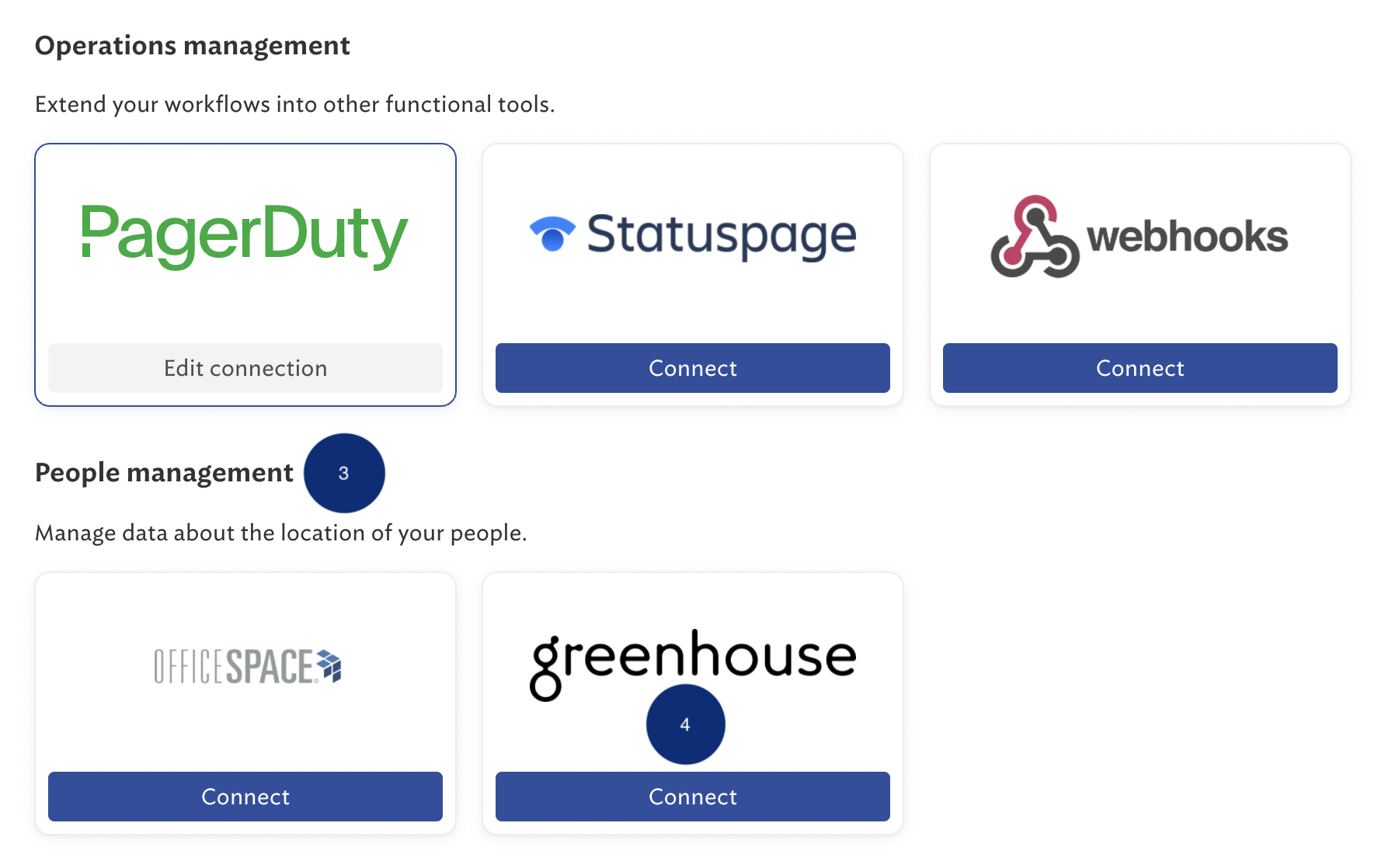 To find your Greenhouse API key following instructions here.

In a second window, navigate to greenhouse.io, and login.

Once you've logged into Greenhouse, select the gear icon in the top right. Navigate to DevCenter on the left side panel.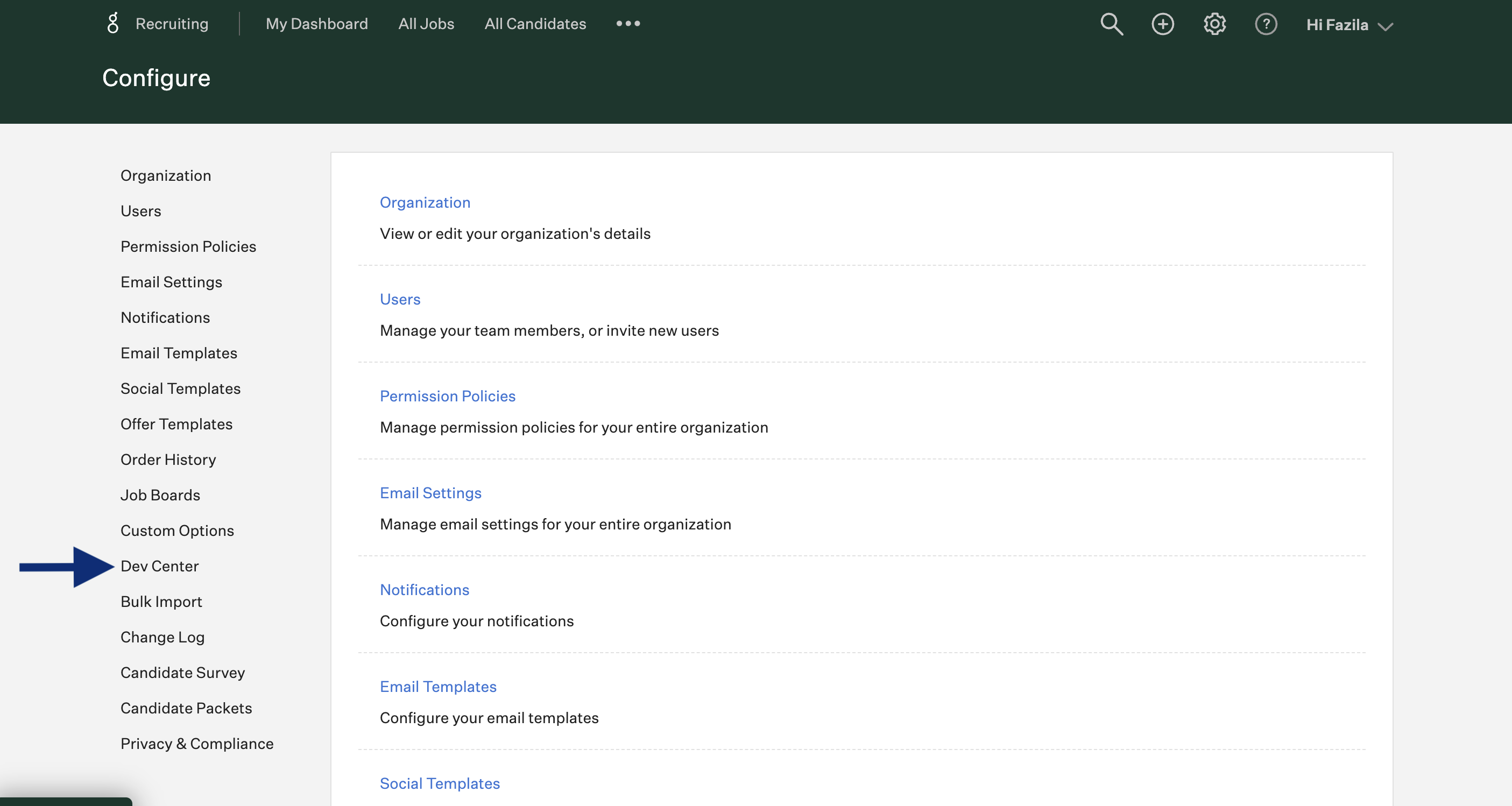 From the Dev Center page, click API Credential Management.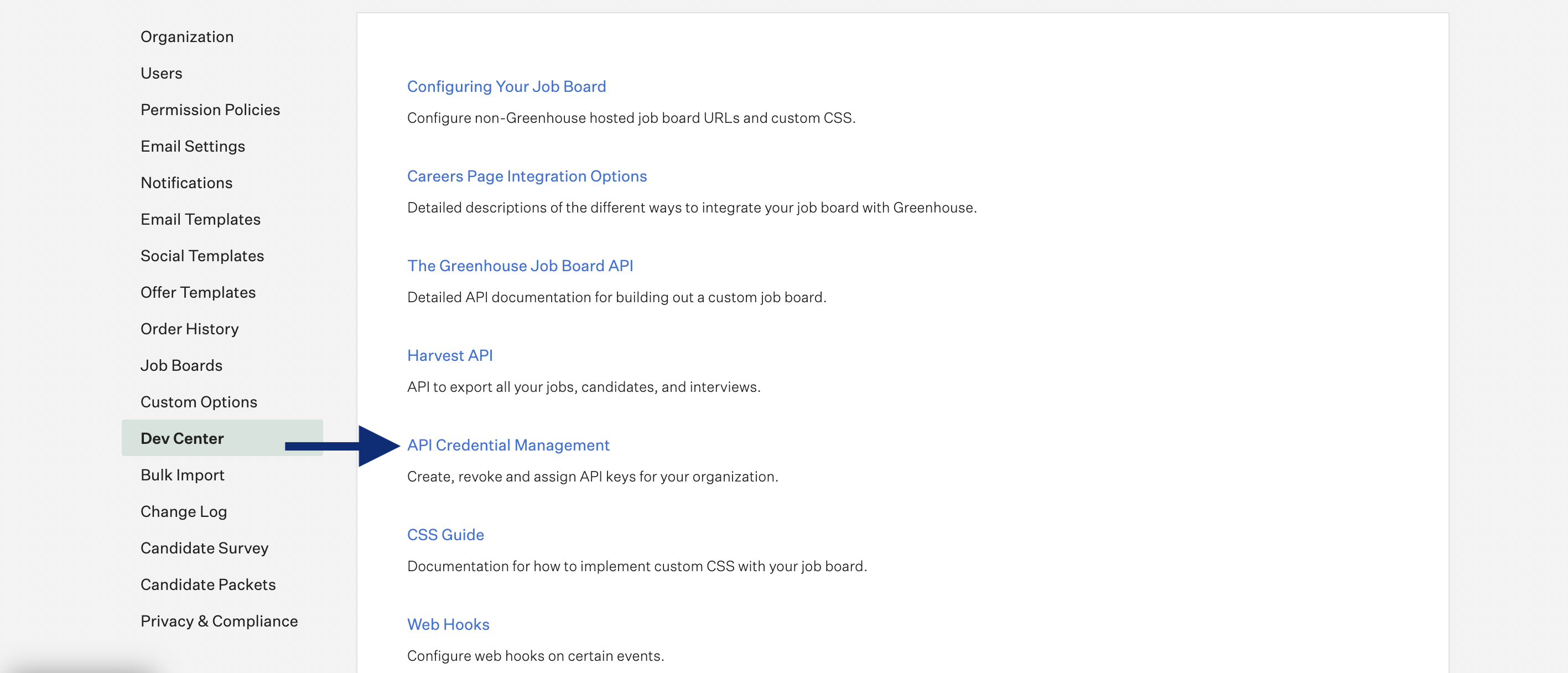 From the API Credential Management page, click Create New API Key to generate the API key

In the new Create New Credential modal, select the following
API Type: Harvest
Partner: select partner affiliate if applicable
Description: Enter a name you will recognize, to name this API key.
Then select "Manage Permissions"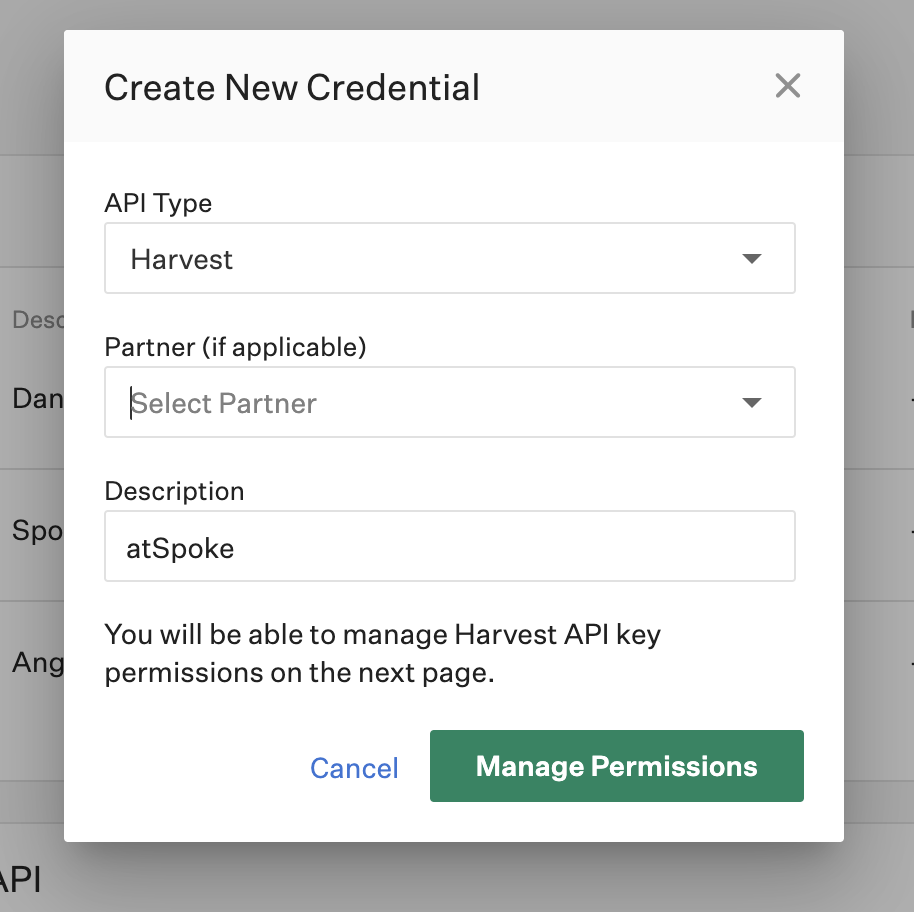 Greenhouse will create an API key for use with atSpoke. Next, select "Copy"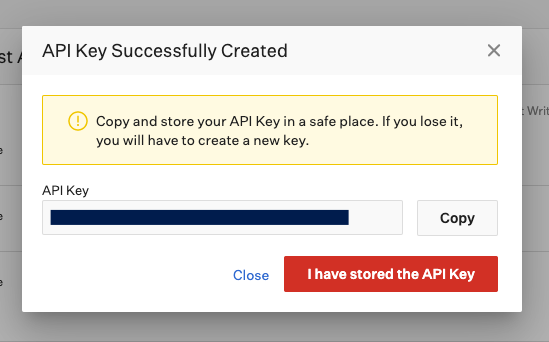 Navigate back to the tab with your atSpoke URL.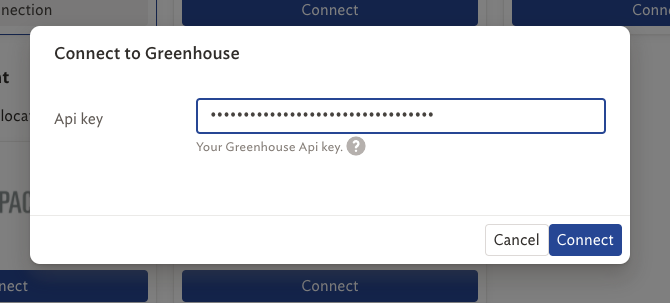 Paste your API key and click Connect.
Once connected, you can select which atSpoke teams to allow Greenhouse events on.
Set up Greenhouse events by clicking on set up. A window will pop up for you to select the action you want to trigger when the event happens and request type if applicable. Select Activate
Modifying an event in atSpoke requires additional external setup. Steps can be found here. The event webhooks will not be processed until the form is filled out in the Greenhouse app.
Once enabled, Admins can either disable or edit the connection to add or remove atSpoke teams or edit events directly from the Integrations tab under Settings. 
To remove the link between atSpoke and Greenhouse, simply select "Disable " at the bottom of the left of the window
Only Admins can view, enable, configure, edit, and disable Integrations

Creating a request in atSpoke
With the greenhouse integration a candidate state change will trigger a request in atSpoke.
Below you will see the example of candidate stage change for a Software Engineer.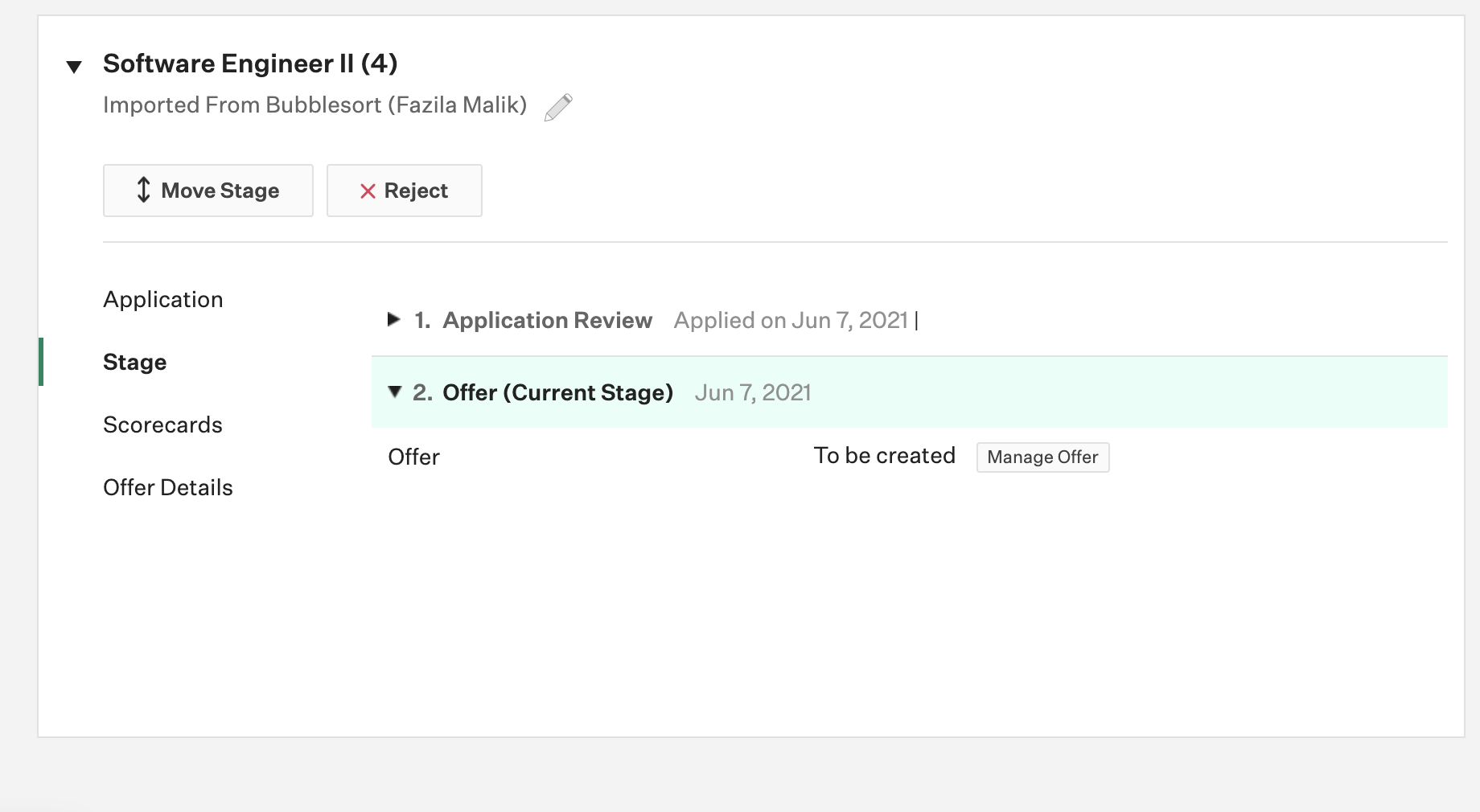 Select Move Stage in the top left.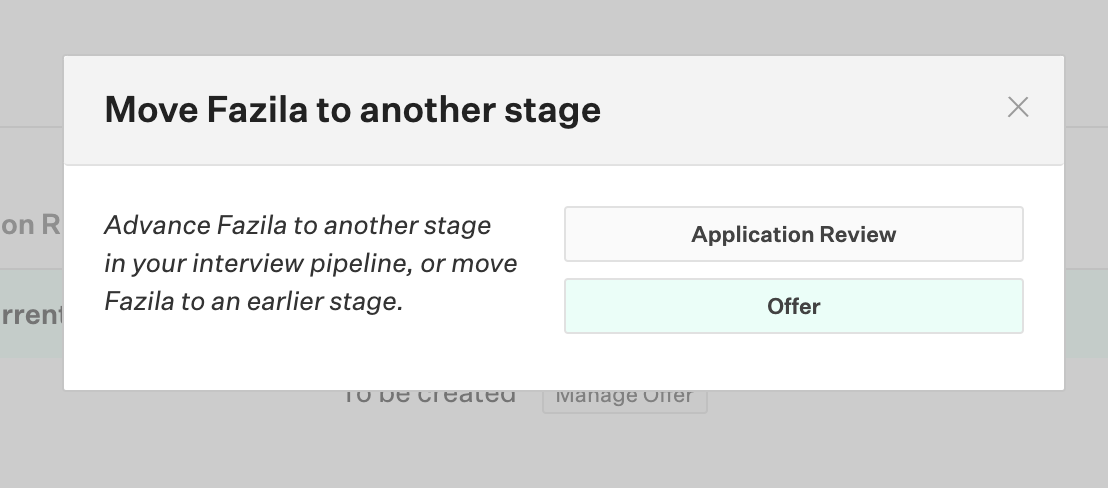 By moving a candidate to Offer an employee onboarding request will be created in atSpoke.

Open the request to complete all fields and begin the onboarding process, all from atSpoke!
---
---